Specialized Vehicle Insurance Startup Voom Emerges From Stealth with $7 Million
Voom offers on-demand insurance for vehicles such as e-scooters, motorboats, and small planes
Specialized vehicle insurance startup Voom (incorporated as SkyWatch Ltd.) has emerged from stealth with the close of its $5 million series A round, the company announced Wednesday, bringing its total funding to date to $7 million. Arbor Ventures led the round, which was also participated by Plug and Play Ventures and existing investors F2 Capital, Verizon Ventures, and Kaedan Capital.
Founded in 2015 and headquartered in Tel Aviv, Voom started as a company called SkyWatch that offered insurance for commercial drones. SkyWatch has been brought under Voom as one of its brands when the company renamed in 2019. The company is now expanding its offering to on-demand insurance for vehicles such as e-scooters, motorboats, and small planes, using SkyWatch's existing risk analysis engine. The company provides users with a mobile application that sends operators real-time hazard warnings, feedback, and actionable insights.
"With the rise of on-demand mobility services such as e-scooters, we discovered that in most cases, riders are not covered in case of an accident," Tomer Kashi, CEO and co-founder of SkyWatch and Voom, said in a statement.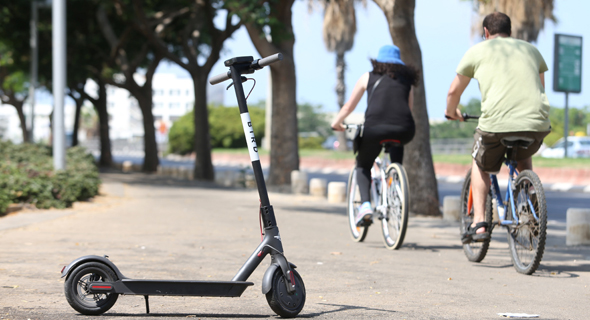 An e-scooter in Tel Aviv. Photo: Orel Cohen