Israeli Entrepreneurs Protest Bill Granting Immunity to Prime Minister Netanyahu
A group of 100 entrepreneurs signed a letter to the Israeli parliament protesting the bill, which they describe as an attack on Israel's democracy. Netanyahu is currently facing indictment in three separate criminal charges
A group of 100 Israeli tech and business entrepreneurs have joined together in protest of a bill being promoted in the Israeli parliament that will grant Israeli lawmakers, including Prime Minister Benjamin Netanyahu, automatic legal immunity.

For daily updates, subscribe to our newsletter by clicking here.

Since 2005, the Israeli parliament, also known as the Knesset, can vote to grant immunity to its elected members. According to the proposed bill, immunity will be applied automatically and the Knesset will need to vote to revoke it. The group is calling the bill an attack on Israel's democracy.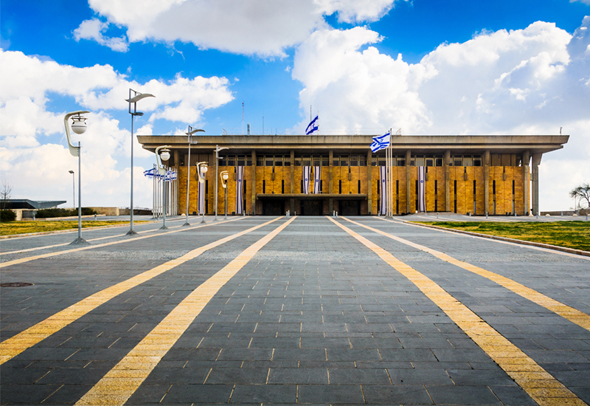 The Knesset, Israel's Parliament. Photo: Shutterstock

On Monday, the Israeli parliament announced it is set to vote on the bill, filed by supporters of Prime Minister Netanyahu, who is currently facing possible indictment in three separate criminal cases.

In a letter sent to Israeli lawmakers, which was reviewed by Calcalist, the group wrote that they cannot stand idly by as the building blocks of Israel's rule of law are threatened.

The protest was initiated by foodtech entrepreneurs Ayelet Carasso-Sternberg and Doron Marco, founders of Israeli pod-to-meal startup Genie Enterprise Ltd. It was joined by leading figures in the Israeli business and tech ecosystem including Shimon Eckhouse, who founded successful companies such as medical laser company Lumenis Ltd. and Syneron Medical Ltd., acquired in 2017 by London-based private equity firm Apax Partners Worldwide LLP for $397 million. "This attempt to harm Israel's democracy is frightening me," Eckhouse told Calcalist.

Dov Moran, the co-founder and CEO of USB flash drive developer M-Systems bought by Sandisk in 2006, told Calcalist that while he did not sign the letter, he supports the protest. It is not a partisan initiative, but one that is trying to secure our democracy, he said.

Last week, some 200 Israeli lawyers announced their intent to drive the Israeli legal system to a standstill in protest of what they called the government's unprecedented attack on the country's supreme court. The newly elected parliament is also set to vote on a law curtailing the power of Israel's highest court to overthrow laws and decisions passed by the Knesset. Many in the legal system fear that, if passed, this law, combined with immunity bill, would effectively prevent any chance of prosecuting elected officials, including the Prime Minister.