Mitsubishi Opens Israeli Business Intelligence Outpost
Already operational, the new center will help Mitsubishi collaborate with Israeli startups
Mitsubishi Corporation has recently opened a Tel Aviv liaison office to operate as a business intelligence outpost, the company announced Monday. Already operational, the center will help the Japanese corporation scout for Israeli companies and technologies in Mitsubishi's core areas of interest, including automotive and smart mobility.

For daily updates, subscribe to our newsletter by clicking here.

The digital revolution necessitates the tapping of new innovative technologies, and partnerships with Israeli startups could hold the key for Mitsubishi's future growth, said in a statement Takashi Kai, head of the new center.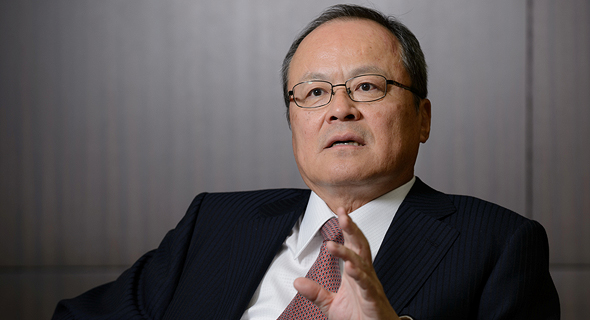 Mitsubishi president and CEO Takehiko Kakiuchi. Photo: Bloomberg

Until now, Mitsubishi's presence in Israel was limited to trade-related operations. The corporation is the third Japanese general trade company to set up a local development center, after the Mitsui Group and the Marubeni Corporation. Japanese multinational the Hitachi Group also has a center in Israel.

Mitsubishi, Japan's largest trading company, operates in seven segments including financial services and banking, energy, metal, chemicals, machinery, and food. The corporation has around 70,000 employees globally, and around 1,400 subsidiaries and related companies. Through its Mitsubishi Motors arm, the corporation also has a strategic alliance with Renault–Nissan, which already has an innovation center in Israel.

Over the past two years, Mitsubishi has broadened its reach in Israel, looking into potential collaborations with the assistance of the Israeli Ministry of Economy and Industry's economic and trade mission in Japan. The corporation has understood that if it wants to connect to Israeli innovation, it needs to expands its representation in Israel, mission head Noa Asher said in an interview with Calcalist.

Over 300 multinationals operate research and development or innovation outposts in Israel, according to data provided by Start-Up Nation Central (SNC), a Tel Aviv-based non-profit organization that manages a database of Israeli tech companies. Over the past four years, over 70 Japanese companies set up representation in Israel and Japanese companies invested over $5 billion in Israel in total. The export-import turnover between Israel and Japan in 2018 was $3.2 billion according to the Israel Export Institute, a 12% increase from 2017, making Japan Israel's tenth largest trading partner.