Brief
Plastic Alternative Startup Solutum Wins Tel Aviv University Startup Competition
Founded in 2017, Solutum develops plastic-like bags that fully dissolve in water
Plastic alternative startup Solutum Ltd. has won Tel Aviv University's Coller School of Management third annual startup competition, held Monday. As their prize, the company won a $100,000 investment from Jeremy Coller, the school's namesake, who serves as chief investment officer at London-based private equity firm Coller Capital Ltd.

Founded in 2017, Solutum develops plastic-like bags that are capable of fully dissolving in water.

Contextual Web Ltd., a company founded in 2018 that develops a search engine specializing in indexing technology, won second place and a $25,000 investment.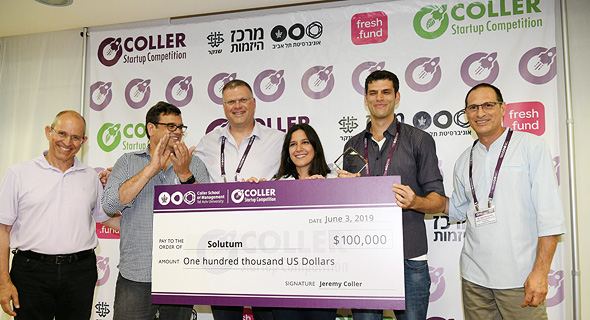 Moshe Zviran, (left), Jeremy Coller, Jos Neuhaus, Sharon Barak, and Eyal Benjamin. Photo: Yair Sagi