Global Trade Tensions Could Tank Israel's Export, Report Shows
A new report by Israel's Economy Ministry shows the rising global threat of a trade war between the U.S. and China could have a negative effect on Israeli exports, which account for 30% of the country's GDP
A report published Tuesday by the Israeli Ministry of Economy, summarizing Israeli export in 2018, paints a clear picture: behind the positive numbers that highlight a growth in merchandise and services exports and various declarations of surpassing the $100 billion in exports mark, there are a few serious red flags. Chief among them is the rising global threat of a trade war between the U.S. and China, the effects of which may already be seen soon for Israeli export—which accounts for 30% of Israel's GDP.

For daily updates, subscribe to our newsletter by clicking here.

Export from Israel rose 7% between 2017 and 2018, reaching $110.6 billion, but centralization is a main apparent trend. Fifty companies, amounting to 0.3% of exporters from the Israeli market, are responsible for 60% of Israel's global export, according to the report. 60% of all Israeli exports to Europe are done by just 35 companies; 19 companies are responsible for 60% of the country's exports to Latin America; 60% of exports to Asia are made by 17 companies; and only 15 exporters grab 80% of all exports from Israel to China.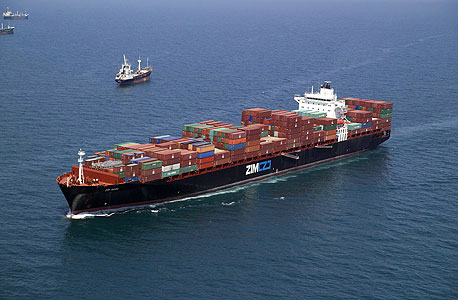 A ZIM Ship at Haifa Port. Photo: Ariel Warhaftig

Fitting many other socioeconomic and geographical trends seen in Israel, companies located in Israel's tech-heavy central district are responsible for 45% of Israel's global export.

Another red flag is that while 2018 has been a second year of consecutive growth for the export of merchandise, reaching the $60.6 billion mark, it is still lower than the record number reached in 2012, which was $61 billion. As the export of services continues to rise, the share of merchandise has now fallen to 54.8%, compared to 70% at the beginning of the decade.

While merchandise export is suffering, export of services reached $50 billion in 2018, up 11% year-over-year. And it is growing at an accelerated rate: between 2013 and 2015 export of services grew by 5%, but between 2015 and 2018 it grew by 36%. And that growth is seen for every services subsector.

While the Israeli Economy and Finance Ministries have not expressed concern about the decrease in merchandise export, the Manufacturers Association of Israel sees things in a different light. Israel is losing the engine that led its accelerated growth until a few years ago, president Shraga Brosh told Calcalist in an interview earlier this week. "The government needs to understand what is already understood on a global level—the key to long-term growth and an increase in the quality of life is only an innovative, strong, and growing industry."

It must also be pointed out that on the surface, data on merchandise export from Israel is misleading. Export of cut diamonds and precious metals accounts for 24%, but while it does boost the dollar valuation, it does not actually make a substantial contribution to Israeli employment or quality of life. This is because Israel does not mine diamonds but rather imports them, cuts them, and then exports them, leaving the net contribution of the sector at an annual $6 billion, or 10% of all merchandise export. That is why economists often choose to exclude diamonds when discussing Israeli export.

The same is true for mineral export: while over the past five years it jumped from $700 million to $1.5 billion, it is a fickle market in terms of both prices and demand.

The market most affected in 2018 was the European market, the export to which dropped by almost 4%. This is due to a weakening in the growth of EU countries, expected to only get worse in the next two years, but also due to the continuous collapse of Israeli drugmaker Teva Pharmaceutical Industries Ltd. Still one of Israel's largest companies, Teva's struggles affected a 5.4% decrease in the Israeli export of chemicals and related products.

As with most discussions of Israeli economy, the tech industry takes central stage. In the past year, the computing, software, and research and development subsectors alone added $4 billion to Israel's total export. Export of computing and software services doubled from $8.7 billion in 2013 to $17.6 billion in 2018, leading the International Monetary Fund to name Israel as one of the world's main computing services exporters in a 2017 report.

This shift in export characteristics has many benefits, two of which can already be seen clearly, according to Ohad Cohen, head of the Foreign Trade Administration at the Ministry of Economy, and one of the authors of the report. First, it is much less centralized than the merchandise export segment. More importantly, computing and research and development together account for 51% of all services export—and those two industries have among the highest productivity rates in the Israeli market. In contrast, industrial productivity fell 0.55% in Israel between 2014 and 2018, compared to an OECD average growth of 2.6%.

And herein lies the rub: when the world shakes, 30% of Israel's GDP shakes with it.

"If global economy is on the path towards a slowdown due to the trade war, it could create a situation where both developed and developing markets will see their growth slashed in ways we have not previously seen or anticipated—and Israeli export will feel the effects," Cohen said.