In Israel, Millionaires are the New Normal
With the estimated personal wealth in Israel going up by 45% in the last decade, Israelis are now a premier target for global wealth management bankers
Israel model 2019 is full of millionaires. The country, which has a population of just under 9 million, has more millionaires now than at any other point in its history. Whatsmore, the rise in the number of heavyweight millionaires—those with at least $30 million in their account—is faster than the U.S., U.K., and nearly all of Western Europe. In fact, it is second only to that of Ireland.

For daily updates, subscribe to our newsletter by clicking here.

Most Israelis reading this will probably feel that the data is out of touch with reality. Indeed, most people living here are burdened by exorbitant living costs, a fluctuating market, and economic inequality. Like most places, the trickle-down theory of wealth randomly applies here. But while Israel is far from the extreme wealth of most Gulf countries, and many of its citizens struggle daily to make ends meet, the class of incredibly wealthy Israelis is growing in an unprecedented manner. So quickly, in fact, that global wealth management banks are now courting Israeli clients with fervor.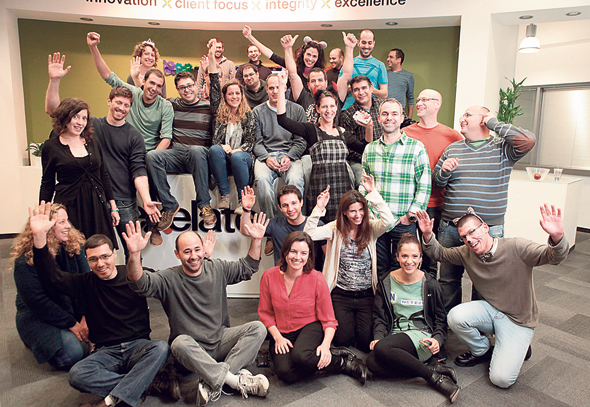 Israeli tech workers celebrate their exit (illustration). Photo: Amit Sha'al

Israel is one of the most interesting markets in terms of wealth, according to a wealth management executive who spoke to Calcalist recently on condition of anonymity. Indeed, Swiss banks have in the past decade begun showing an interest in the local market. Seven years ago Israel was included in Swiss multinational wealth management bank UBS Group AG's list of five countries of immense strategic importance. Also on the radar of UBS at that time were China, Russia, Brazil, and Hong Kong. In reply to Calcalist's recent request for comment, UBS stated that Israel's large number of entrepreneurs and startups is what makes it a uniquely strategic market.

The wealth management departments—those managing HNWI, or high net-worth individuals, as they are often called—of banks such as UBS and Credit Suisse have been intensifying their activity in Israel in recent years. This includes both local offices and dozens of employees who now live on the Zurich-Tel Aviv route, bearing the responsibility to detect, lure, and pamper every Israeli with over $1 million in liquid assets.

A Swiss banker working in Israel, who spoke to Calcalist on condition of anonymity, said that he and his colleague closely follow news reports on tech exits and then invite the newly rich to dine, all expenses paid, at the country's top restaurants.

"We open bottles of wine worth hundreds of shekels, trying to persuade them to open an account with us," he said.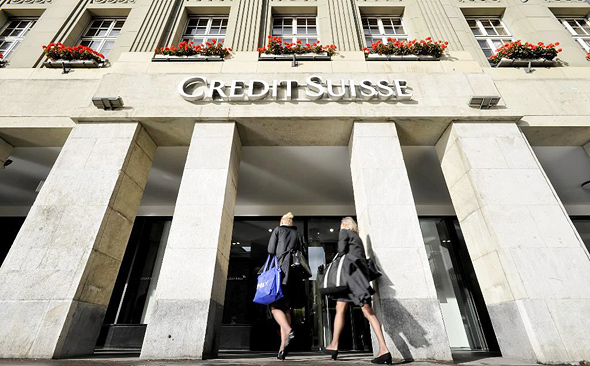 Credit Suisse. Photo: Bloomberg

The sentiment is echoed by Eran Goren, managing partner at Fidelis Family Office. "The newly rich Israelis are much younger than the European, and their money is visible and exposed, every exit is covered in the news," he told Calcalist in a recent interview.

Before Merrill Lynch was swallowed by the Bank of America it used to publish the annual global wealth report. In its last installment, in 2010, Israel was said to have 10,153 millionaires.

Today, estimates place that number at over 12,000, but people familiar with the matter say these are conservative numbers, placing the real number at double that. The latest report on the matter by Credit Suisse, published in late 2016, outlined 105,000 multi-millionaires in Israel but took into account real estate investments and other assets besides cash. That same report listed 18 Israeli billionaires, 25 Israelis worth between $500 million and $1 billion, and 277 people worth between $100 million and $500 million. In the years since, these numbers have surely gone up, due to massive tech industry exits, including that of Israeli chipmaker Mellanox Technologies Ltd., acquired earlier this year for $6.9 billion.

Market research firm Net World Wealth emphasizes Israel because unlike countries known for their old money—Italy, Belgium, and the Netherlands, to name a few—where wealth is declining, in Israel the trend is reversed. According to Net World Wealth, in 2018 alone, more than 1,000 Israelis became first-time multi-millionaires.

The sector of ultra-HNWI, those with at least $30 million in liquid assets, is one of the fastest growing groups in Israel, according to research firm WealthX. A 2018 report by the firm places Israel among the top 10 countries for UHNWI, with an annual growth rate of 8.6% between 2012 and 2017. A report by real estate company Knight Frank from 2018 states that 1,732 people in Israel have more than $30 million in liquid assets. This is more than in Belgium, Denmark, and New Zealand.

In recent years, there has been a massive accumulation of wealth in the country, the wealth management executive told Calcalist. According to him, Intel's 2017 acquisition of Mobileye for $15.3 billion minted 100 new millionaires with a personal worth of more than $5 million each.

"There is a lot of money in Israel," Erez Britt, founder and CEO of wealth management firm Tandem Capital, told Calcalist in a recent interview. "Young people get the money mostly from tech, and even those who did not make an exit come to us with millions earned in salaries and options," he said. "The older ones get their money mostly from real estate," he added. "Any person who sells an apartment in central Israel these days is an instant multi-millionaire."

Twenty years ago, when Britt founded his wealth management company, he was one of only a few firms that offered wealthy Israelis investment opportunities abroad. Nowadays, he said, one of his funds targeting Israeli clients has already raised NIS 300 million (approximately $83 million), growing at a rate of an additional $10 million each month from private investors. According to his estimations, he said, there are tens of thousands of people in Israel today with more than than $1 million in liquid assets primed for investment.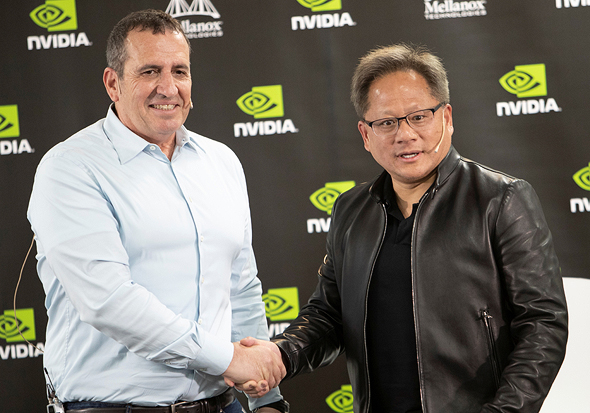 Mellanox CEO Eyal Waldman (left), Nvidia CEO Jensen Huang. Photo: Gil Nehushtan

On a global scale, the world is becoming more affluent; but in Israel, it is happening faster. According to a report by Afrasia Bank published earlier this year, the estimated personal wealth in Israel has gone up by 45% in the last decade.

"Feeling more eligible than ever, Israelis are bringing the Swiss banks to their knees," an Israeli who previously worked for one of Switzerland's largest banks told Calcalist recently on condition of anonymity. "Even those with just $1 million or $2 million arrive at meetings having already been contacted by Swiss, American, and local wealth management bankers," he said. "And Israelis drive a hard bargain. They haggle. This is why Israelis are known to pay the lowest fees, compared to wealthy clients from other countries."

Many Israelis now hold management roles in Swiss banks, having been brought on years ago to deal with Israeli clients, who quickly earned a reputation for being aggressive. "Only an Israeli client can call his banker in Switzerland, who manages tens of millions of dollars in assets for him, and yell at him for a $1.30 transaction fee," the Israeli former banker said. According to him, Israelis pay on average 0.3%-0.6% in management fees, while a Russian client, for example, is likely to pay 2%.

But even if they have to cut back on fees, Swiss banks are still intent on wooing Israelis. This is because, in wealth management banking, size really does matter. "At the end of the day, your business card is the amount of money you manage," Yossef Assis, founder and CEO of financial services firm Empathy Capital, who has previously worked in the wealth management department of UBS, told Calcalist in a recent interview. If you have 200,000 clients, that is a whole other ballpark compared to 2 million clients. Asset managers need all these accounts for their bottom line."

Besides, Assis said, Israel offers a unique advantage to the Swiss headhunters, as a banker does not need to travel far and wide to recruit new clients. "You can find most of its wealthiest people within a one-mile-radios in central Tel Aviv." When you consider that, all of a sudden it makes more sense, he said.

Local wealth management firms have also become more competitive in recent years, Assis said. In fact, in recent years, many Israeli bankers have left their cushy jobs in Swiss banks to return to Israel and open family offices, building on the reputation—and the Rolodex—they cultivated overseas.