Tel Aviv Among World's Most Congested Cities
According to a recent report, Tel Aviv was the 19 most congested city in the world in 2018
Tel Aviv is among the world's most congested cities, according to Amsterdam-listed navigation technology company TomTom International BV, which released its latest traffic index report last week. The company's report provides statistics and information about congestion levels in 403 cities spanning 56 countries.
For daily updates, subscribe to our newsletter by clicking here.
According to TomTom's report, Tel Aviv was the 19 most congested city in the world in 2018. Mumbai, Bogota, and Lima were the cities with the most traffic last year. The first American city to make the list was Los Angeles, coming in at 24. New York City, the next American city to make the list, landed the 42 spot. The most congested cities in Europe are Bucharest, ranked 11 globally, Poland's Lodz, at 15, and Krakow, at 26, Edinburgh at 27, and Athens at 29. Rome was ranked 31, London snagged the 40 spot and Paris was the 41 most congested city in 2018.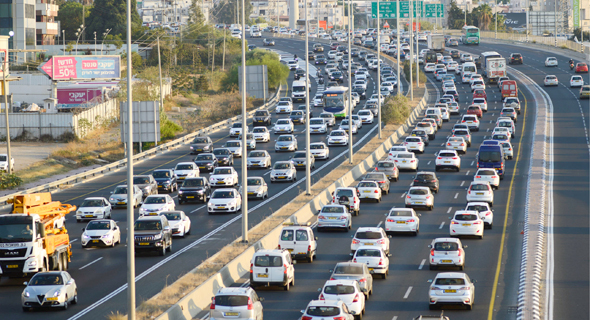 Tel Aviv traffic. Photo: Yuval Chen
TomTom measured the amount of extra travel time experienced by drivers by establishing a baseline of travel times during uncongested, free flow conditions across every road segment in each city. The company then analyzed travel times comparing congested times against free flow periods to derive extra travel time. The statistics are calculated from anonymized GPS data collected from navigation devices, in-dash systems, and smartphones, according to company statements.
While in its eighth year, this was the first time the company included cities in India, Japan, Egypt, Colombia, Peru, Ukraine, Israel, and Iceland in its ranking.