Brief
Intel CEO Robert Swan to Arrive in Israel Next Week
Swan is expected to meet with Intel employees and host a press briefing
Intel CEO Robert (Bob) Swan is set to arrive in Israel for a two-day visit next week, the company announced Monday. This is Swan's first visit to Israel since he was officially named the company's CEO in January, after serving as interim CEO for seven months.

During his two-day visit, Swan is expected to meet with Intel employees and host a press briefing. He is not expected to meet with Israeli startups or with government officials, Intel said. In November, a delegation of top Intel executives led by Swan met with Israeli Prime Minister Benjamin Netanyahu in Jerusalem.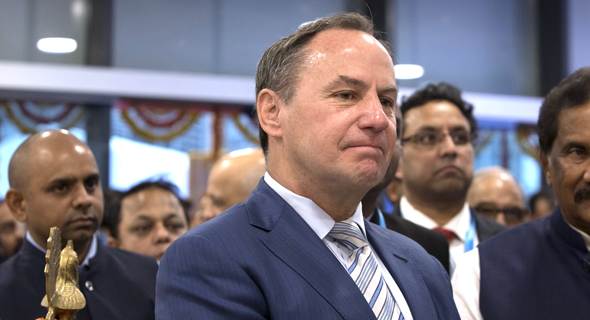 Intel CEO Robert Swan. Photo: Bloomberg

Intel, which opened its first operations in Israel in 1974, is the largest non-government employer in the country. The company currently employs approximately 13,000 people locally, including the 1,100 people employed by automotive chipmaker Mobileye, acquired by Intel in 2017 for $15.3 billion. Intel's exports from Israel amounted to $4 billion in 2018, according to company statements. In May 2018, the company submitted a $5 billion expansion plan of its Kiryat Gat chip manufacturing plant to the Israeli government.