Automakers Renault and Nissan Open Tel Aviv Innovation Lab
The facility will enable the automaking alliance to accelerate collaboration with Israeli startups
Automakers Renault and Nissan opened their joint Tel Aviv innovation lab on Monday. In a statement, the automakers, which are part of the Renault–Nissan–Mitsubishi alliance, said the facility, named the Alliance Innovation Lab Tel Aviv, will enable them to accelerate their collaborations with Israeli startups and facilitate a partnership with government tech investment arm the Israel Innovation Authority (IIA). In addition to offices, the 1600-square-meter space will allow for testing of new technologies with real vehicles.

For daily updates, subscribe to our newsletter by clicking here.

The innovation lab will focus on technologies in the fields of autonomous vehicle sensors, cybersecurity, and big data. The alliance is currently testing more than ten collaborative projects with Israeli startups, including Tel Aviv-listed solar energy company Apollo Power, automotive cybersecurity company Argus Cyber Security Ltd., and autonomous driving communication chipsets developer Autotalks Ltd.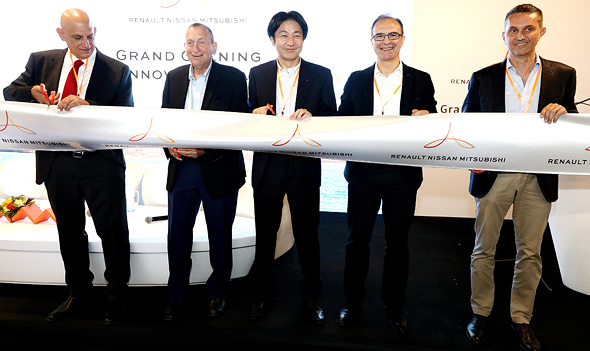 The opening of the Alliance Innovation Lab Tel Aviv. Photo: Niv Kantor

As part of the lab's activity, it will promote cooperation with the venture capital arm of Renault–Nissan–Mitsubishi, Alliance Ventures. The fund plans to invest up to $1 billion over five years in local startups.

In May, Alliance Ventures has committed to invest an unspecified amount in Maniv Mobility (also known as Maniv Investments LLC), a Tel Aviv-based venture capital fund dedicated exclusively to automotive and mobility technologies.