Intended to Increase Competition, Israeli Law Pushes Credit Card Fees Up
In 2017, the Israeli parliament passed a law intended to increase competition in the financial sector. Among its clauses, the law mandated a separation between Hapoalim and Leumi, Israel's two largest banks, and their credit card subsidiaries
When the Israeli parliament passed in January 2017 a law intended to increase competition in the financial sector, critics were quick to warn that the restrictions placed on local players would end up carried over to the public in the form of increased fees. Back then, experts focused primarily on consumer interest, but today, it is evident that the first fees to jump are credit card fees.

For daily updates, subscribe to our newsletter by clicking here.

Among its clauses, the law mandated a separation between Hapoalim and Leumi, Israel's two largest banks, and their credit card subsidiaries. The deadline was 2020. Leumi sold its credit subsidiary to New York-headquartered private equity firm Warburg Pincus LLC in 2018, the latter renaming it Max. Poalim listed its subsidiary Isracard on the Tel Aviv Stock Exchange as a separate, public entity in April, keeping a 30% stake. A third credit card operator, Israel Credit Cards Ltd., or Cal, is still jointly owned by Israel's third largest bank Discount and the First International Bank of Israel, at least until 2021.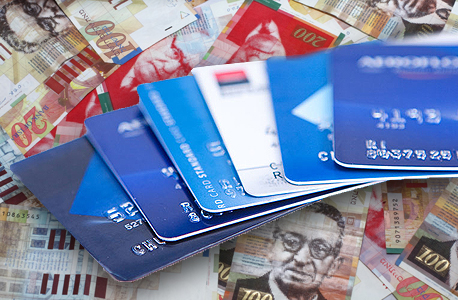 Credit cards. Photo: Shutterstock

Now Isracard, which issues around half of all Israeli credit cards, has announced it will be upping some of its rates as of September. The company stated it will increase its foreign currency exchange fees from 2.3% to 2.7% ( it will still be lower than Cal's 2.8% and Max's 3%). While Isracard also said it would lower the foreign usage fee for ATM withdrawals from 3.9% to 3.5%, that is hardly a compensation, as most Israelis already choose to pay abroad with their credit card or previously exchanged cash specifically due to the high foreign usage fees.

Furthermore, the foreign usage fee also affects Israel's favorite pastime: online shopping on websites such as Amazon, ASOS, and AliExpress. In 2017, 61 million packages weighing over 23 million pounds (10,800 tonnes) were ordered by Israelis from retailers abroad, according to the Israeli national postal service.

Isracard will also up the monthly usage fees for its local, non-international banking cards, out of a desire to compel more people to switch to international cards, which are more profitable to Poalim as the issuer and Isracard as the operator. Earlier this year, Isracard cut the monthly fees for its international cards.

A similar law passed by the Israeli parliament in March 2016, which set a NIS 3.5 million (approximately $980,000) cap for the annual salary senior executives in Israel's financial sector could draw, has recently been shown to have comparable unintended results. The CEOs of Poalim, Leumi, and Discount banks have all announced their retirement in recent months, sending the local financial system into disarray and raising concerns that a law intended to put checks on the financial industry is instead driving talented managers away into the arms of the private sector.

Last week, Israel Securities Authority (ISA) Chairwoman Anat Guetta referred to the resignations, stating that every regulatory decision has both benefits and costs, the departures being just one of the prices the public will pay for extraneous regulation. Smart regulation needs to consider all possible ramifications in advance, she said.

The 2017 market competitiveness law led to an increase in the commission Isracard and its rivals are required to pay to credit card payment processing services. At the same time, though the banks were forced to sell their credit card subsidiaries in an attempt to increase market competitiveness, they were not barred from developing their own payment alternatives, such as Leumi's Pepper Pay, Poalim's Bit, and Discount's Paybox, which compete with the now independent credit card companies.

The bottom line, at least for the time being, seems to be that the law that aimed to make the credit card companies equal players to the banks has failed to achieve its objectives. The financially stable continue to receive comfortable interest rates from the banks while the less financially secure are forced to turn to the credit card companies for loans at higher interest rates. And in the meanwhile, the public is paying the price in the form of increased fees.