The Ties That Bind: Ehud Barak's Business Network
An Israeli emergency response startup chaired by the former Israeli prime minister links U.S.-based businessman Andrew Intrater, one of the suspects of the Mueller investigation, and American multimillionaire Jeffrey Epstein, currently at the center of an underage sex trafficking scandal
Update, Friday August 30, 2019: U.S.-based businessman Andrew Intrater is a business partner and backer of former Israeli Prime Minister Ehud Barak's emergency response startup Carbyne Ltd. Intrater is also one of the key figures questioned by Special Counsel Robert Mueller and his team in connection to the alleged Russian interference in the 2016 U.S. presidential election.

For daily updates, subscribe to our newsletter by clicking here.

Intrater, who is related to Russian businessman Viktor Vekselberg (a man who has been designated by the U.S. Department of the Treasury as suspected of supporting "malign activity" perpetrated by the Russian government), was questioned due to conspicuous money transfers to—and close ties with—Michael Cohen, Donald Trump's former lawyer and confidant, who is currently serving a sentence for fraud and violation of campaign finance laws.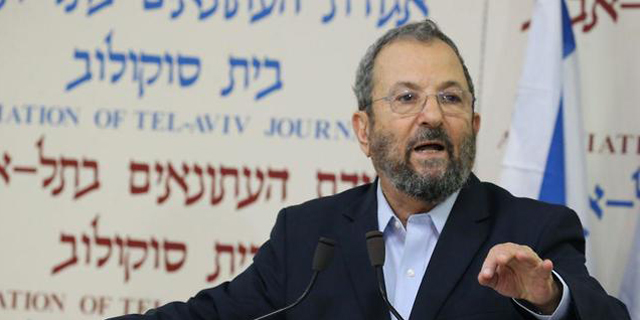 Ehud Barak. Photo: Moti Kimhi

According to information collected the Mueller investigative team, Intrater was questioned about a transfer of $583,000 to Cohen through investment firm Columbus Nova Technology Partners (CNTP), designated by the Mueller team as an affiliate of Moscow-based asset management company Renova Group, which is owned by Vekselberg.

According to the search warrants for Cohen's documents, CNTP has made seven payments to Cohen, each of $83,000, between January and August of 2017. During that time, Cohen and Intrater had maintained close contact, exchanging 320 phone calls and 920 text messages between election day in November 2016 and July 2017.

Carbyne was incorporated in 2014 as Reporty Homeland Security Ltd., before rebranding in early 2018. Barak, who invested $1 million in the company in 2015, serves as its chairman. Carbyne develops a cloud-based platform that allows emergency dispatchers to receive GPS data, video and audio transmission, and to use texting services to supplement voice-in distress calls. The Tel Aviv-based company has raised nearly $22 million to date according to Pitchbook data, from backers including Peter Thiel's venture capital firm Founders Fund.

Carbyne company documents reviewed by Calcalist show that Intrater entered as an investor in September 2017, having bought 24% of Carbyne's series A-1 preferred stock.

To facilitate his own investment in Carbyne (then still named Reporty), Barak formed a limited partnership that he incorporated as Sum (E.B.) 2015. Sum owns 100% of Carbyne's series A preferred stock. Jeffrey Epstein, the American multimillionaire businessman now at the center of an underage sex trafficking scandal, is another partner at Sum, having invested money into the venture as early as 2015, as first reported last week by Haaretz.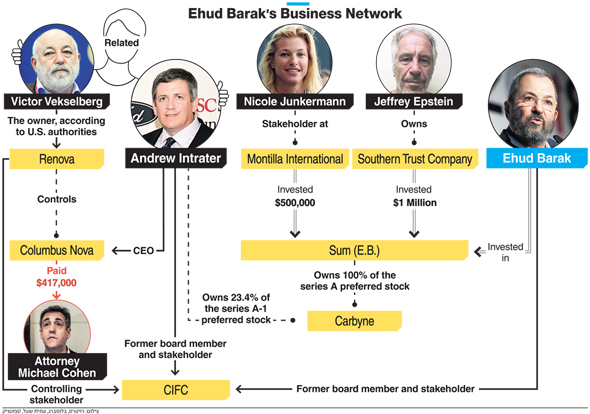 Ehud Barak's business network

On Sunday, Israel's national broadcaster Kan reported that Epstein had invested $1 million in Sum in 2016, through a British Virgin Islands-registered company named Southern Trust. An additional investment of $500,000 was funneled into Sum in 2016, from another British Virgin Islands-registered company, Montilla International.

Among the stakeholders in Montilla is Nicole Junkermann, a London-based entrepreneur and investor. She is the owner of NJF Capital Ltd., which invests in tech and media companies. In 2017, Junkermann was appointed to Carbyne's board of directors, where she serves alongside Barak and other members, including Carbyne co-founder and CEO Amir Elichai and Pinhas Buchris, the former director of Israel's Unit 8200.

Barak and Intrater have known each other for at least five years. The two served on the board of New York-based asset management company CIFC LLC. According to SEC filings, Intrater joined CIFC in 2010, and Barak in 2014. Vekselberg was one of the main stakeholders in CIFC.

"Andrew Intrater is a legitimate businessman," Barak Told Calcalist Wednesday. "I did not bring him to Carbyne, but it is possible he heard about it from me."

CIFC was delisted in November 2016, after being acquired by F.A.B. Partners for $333 million. Both Barak and Intrater used that opportunity to sell off their stake in CIFC at a rate of $11.46 per share. Barak had 20,000 shares at the time, and Intrater 7,000.

In response to Calcalist's request for a comment, a spokesperson from Carbyne said that the company is glad of Barak's involvement. The company founders and employees have never been in contact with Barak's other business partners, and met only with Barak and his lawyers in regards to his investment in the company, the spokesperson said, adding that the company operates in compliance with the law.

In response to Calcalist's request for a comment, a spokesperson from Barak's political party, The Israel Democratic Party, said that Barak does not intend to engage with media spins.

Andrew Intrater did not respond to Calcalist request for comment.

Clarification: Mueller did not include any findings regarding Vekselberg's involvement in the public component of his investigation report.

Meir Orbach assisted with the reporting.