List
Israel's Baby-Tech Boom: 9 Startups for New Parents
From better breast milk to baby sleep monitoring, here are nine Israeli startups that make caring for a newborn just a little bit easier
Having a newborn can be tough. Between sleepless nights, mounting diapers, and next to constant wailing, a lot of young parents find themselves overwhelmed by their new responsibilities, to both the physical survival and development of the child as well as its psychological and emotional well being. In Israel, where the fertility rate is twice as high as the OECD average, the tech industry has upped its baby-tech game in recent years, as startups aiming to make parenting just a little easier are constantly being born.

Below are nine Israeli companies developing technologies to provide better care for newborns.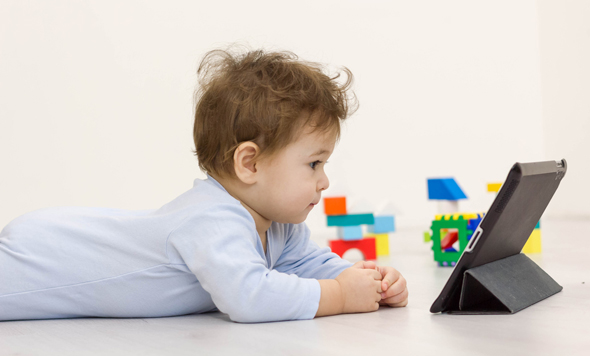 Baby (illustration). Photo: Shutterstock
Nanit
Tel Aviv-based Nanit, incorporated as Udisense Inc., develops technology that uses a camera to monitor and analyze a baby's sleep patterns in real-time, offering sleep insights, behavioral analysis, expert advice, and nightly video summaries. The company has retail partnerships with Amazon and U.S.-based retailer Buy Buy BABY Inc. Founded in 2016, the company has raised more than $30 million to date.
Caring Eye
Founded in 2018, Rehovot-based Caring Eye Inc. develops an infant car-seat monitor that is shaped like a teddy bear's head and is mounted on car seat headrests. The multi-sensor device films and tracks a baby in a rear-facing car seat, so that parents can focus on the road, knowing they will be alerted at once in any case of emergency such as suffocation. The tool also alerts parents via a mobile app when a child is accidentally left alone in the car.
EarlySense
EarlySense Ltd. develops a monitoring system that helps nurses and physicians continuously track key vital signs in newborns, including a newborn's heart and respiratory rate. The sensors can alert the medical staff of potential adverse events, enabling them to act quickly and prevent neonatal deaths. The contact-free sensor is placed under the bed mattress and requires no wires or hookups to the newborn. The company's products, which include similar devices for adults, are approved in both the U.S. and the European Union. Founded in 2004, the company has raised $152 million to date.
Momsense
Founded in 2013, Momsense Inc. develops a device that functions as a kind of digital stethoscope for nursing babies. When nursing, a small sensor and microphone is placed under the baby's ear to record their physiological swallowing patterns. The device uses the recorded data, which can also be heard in real-time by the nursing person, to measure and monitor the flow, quantity, and quality of milk.
Wheelness Lifestyle
Tel Aviv-based Wheelness Lifestyle Ltd., founded in 2016, develops an add-on wheel designed to transform any stroller into a motorized vehicle. The additional wheel comes with a built-in rechargeable battery that can push a stroller at low speeds, making the daily stroll a bit easier, especially when caring for more than one child. The device operates for up to 40 minutes between charges.
FreeWill
FreeWill Ltd. created a customizable adaptor that can connect any wheelchair to any baby stroller, allowing wheelchair-bound parents to independently take their babies for a walk. FreeWill was founded in 2016 by industrial designer Dana Yichye Shwachman, whose father was wheelchair-bound.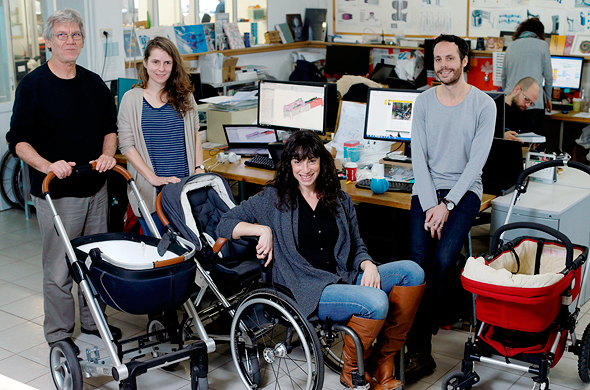 The FreeWill team. Photo: Amit Sha'al
Nanobebe
Tel Aviv-based Nanobebe, incorporated as Nutrits Ltd. develops a breast-shaped baby bottle designed to preserve the nutritional value of breast milk. Nanobebe's bottles can speed up warming time and prevent overheating from nutrient-damaging temperatures, according to company statements. Moms can pump their breast milk directly into the bottle and the company also claims its bottle's unique design, lets the milk cool more quickly in the fridge, preventing bacteria growth. The company's stackable bottles are available at Target, Walmart, and Bed, Bath&Beyond. Founded in 2013, the company has raised more than $2.75 million to date.
MilkStrip
Breast milk testing startup MilkStrip was founded by Avital Beck, a mother of six, and Hadas Shatz-Azoulay, a mother of five, both molecular biology researchers at Israel's Weizmann Institute of Science. The company, founded in 2017, develops a testing strip that tests the quality and makeup of breast milk using a single drop. A photo of the test strip is fed into a mobile app that analyzes the sample and offers dietary recommendations to treat any deficiency or issue. The company's first product is aimed at pre-pumped and frozen breast milk and is meant to test whether refrigeration or defrosting have damaged its quality.
MilkStrip founders Avital Beck (right) and Hadas Shatz-Azoulay. Photo: Dana Koppel
MyMilk Labs
Founded in 2014, MyMilk Labs develops a handheld breast milk scanner that gathers, tracks, and analyzes a small sample of milk to provide nutritional and behavioural recommendations for the mother in order to improve milk production, breast milk composition, and nutritional value.
BabyTRACKS
Founded in 2015, BabyTRACKS develops an app that lets parents monitor their child's development. Using the app, parents can create a digital diary that documents developmental milestones in their child's life and are told what percentile their child falls under when it comes to recognizing faces or taking their first step, for example.