Young Athletes are Injured at Increasing Rates; Physimax Wants to Change This
Physimax uses AI technology to measure movement and musculoskeletal function and identify injury risk factors
Tel Aviv-based Physimax Technologies Ltd., a company that uses computer vision and machine learning technologies to create personalized training programs for athletes, wants to help fight what is becoming a growing concern in professional sports: overuse injuries.

In the U.S. alone, 3.5 million minors are injured every year playing sports, according to the American Academy of Pediatrics. The number of minors experiencing torn ligaments grew dramatically in recent years, with at least half of the injuries related to constant overuse of the knees, according to the American Orthopedic Society.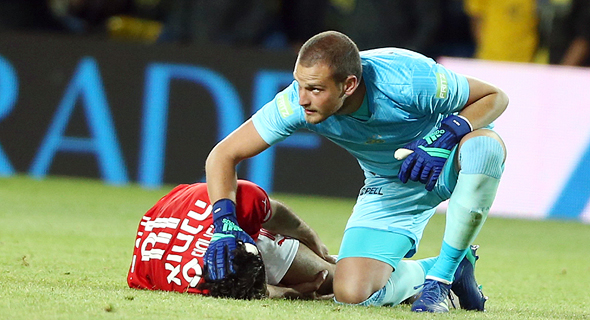 Soccer injury (illustration). Photo: Reuven Schwartz

A study conducted by the University of Wisconsin–Madison's sports lab in 2016-2018 showed that kids who play sports want to specialize in one type of sports as young as 12 years of age, with most starting specialization— practicing only one type of sport at least eight months a year—before the age of 10. The study found that minors focused on a single sport were more prone to injuries: specializing tennis players under 18 were 1.5 times more likely to get injured than non-specializing players, for example. Of the 1,200 specializing minors studied, two-thirds received treatment at sports clinics for some orthopedic issue. Overall, the researchers concluded that these minors were 125% more likely to damage their ligaments, tendons, or cartilage than young athletes practicing more than one sport.

Baxter Holmes, a senior reporter for ESPN, recently called the phenomenon an epidemic. NBA Commissioner Adam Silver also commented on the issue at the beginning of the 2017–18 NBA season, saying that orthopedists are now cautioning that they see overuse injuries in young athletes that in the past were only observed in much older ones. Despite the increased use of injury-prevention technologies, the number of games lost due to injury or illness surpassed 5,000 for the first time in the 2017–18 season.

Overuse injuries are a significant problem across all sports, from school-age teams to the professional leagues, Kevin Kaplan, head team physician for NFL team Jacksonville Jaguars, told Calcalist in a recent interview. According to him, while professional athletes are faster and stronger than ever, they are fatigued because they have been playing since a young age. When it comes to biomechanical issues like joints or core strength, they are sometimes unaware of their own problems, he said. According to Kaplan, that's where Physimax comes in.

Physimax's technology measures movement and Musculoskeletal function to identify injury risk factors, improve athletic abilities, and make rehabilitation more efficient. The company uses a 3D camera to record athletes performing actions such as squats and jumps. The collected data is then used to automatically generate an informative snapshot that could pin-point biotechnical issues, muscle problems, and injury risks. Physimax also recommends specialized exercises intended to help solve different issues, created based on medical protocols.

Physimax has in recent years worked with many professional sports teams, among them NBA groups the Indiana Pacers and the Utah Jazz, MLB team the Colorado Rockies, and many of Europe and Israel's soccer teams, including Paris Saint-Germain Football Club. The U.S. military and marines are also among Physimax's clients. Kaplan has partnered with the head team physicians of the Rockies, the Pelicans, and NFL group the Atlanta Falcons to invest in PhysiMax. According to Kaplan, he and his colleagues are also helping the company develop the next generation of its technology, including a product that could be used with smartphone and tablet cameras.

Using Physimax, they had studied the Musculoskeletal structure of their players, said Kaplan, but the technology could also be used for other patients. "We see how athletes move," he said. "We receive a vast amount of biomechanical information that helps us achieve the hardest objective: prevent injuries."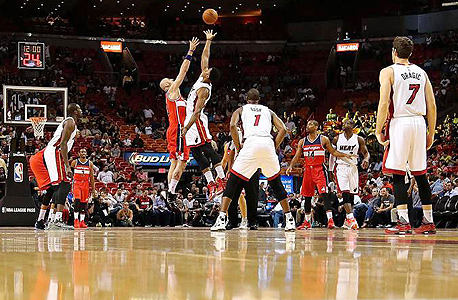 NBA players. Photo: AFP

Physimax has raised an additional undisclosed amount from Tel Aviv and Chicago-based early stage venture firm LionBird and from medical expert group Edtom. The company is currently raising funding on equity crowdfunding company SeedInvest.

The purpose of the investment is to help make Physimax's technology available to everyone who exercises or plays some kind of sport, not just professional athletes, co-founder and CEO Ram Shalev told Calcalist in an interview. "Using the camera or tablet phone, anyone, at any age, could identify their own movement-related problems and improve their abilities without going to an expert," he said.

For professional sports groups, the technology could help save a lot of money. "We know how to fix a torn ligament," Kaplan said, "but what we are trying to understand is what causes that injury, and how to use the information we have to prevent it from happening." If they can prevent injuries, or even cut down on recovery and rehabilitation time, that could help keep more players working and on the field, he added.