New York-Based Firm FfVC Backs Construction Site Marking Drone Startup Civdrone
Civdorne develops a device that can be mounted on commercially available drones for land surveying and marking on construction sites
Israel-based drone startup Civdrone Ltd. has raised $500,000 from New York-based firm ff Venture Capital (ffVC), Civdrone's co-founder and CEO Tom Yeshurun told Calcalist in a phone interview Monday. FfVC will lead a funding round for Civdrone, expected to be completed within the next six months, Yeshurun said.

Founded in 2018, Civdrone develops a device that can be mounted on commercially available drones for land surveying and marking on construction sites. Civdrone's technology uses a built-in highly accurate real-time kinematic (RTK) GPS system and a mechanism that inserts stakes into the soil for marking. Civdrone has eight employees and is currently in the process of hiring more people and relocating to Tel Aviv, according to Yeshurun.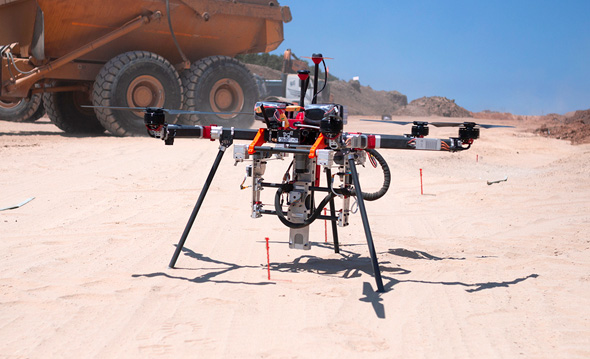 A Civdrone drone. Photo: PR

Civdrone, which has recently graduated from Infralab, a Haifa-based innovation lab operated by Italian energy company Enel SpA and Israeli infrastructure and real estate group Shikun & Binui, has completed tests on sites operated by Israeli construction company Solel Boneh Infrastructures Ltd., Yeshurun said. The company is currently in talks to conduct tests in sites in New York, Texas, and California, he added.