National Economic Conference
Former Israeli Justice Minister Says Netanyahu's Attacks on Media and Legal Bodies Are Campaigning
Israeli right-wing politician Ayelet Shaked spoke Monday at Calcalist's National Economic Conference in Tel Aviv
Israeli right-wing politician Ayelet Shaked has been offered positions in medical cannabis companies after her failure to pass the electoral threshold in April's election, she said Monday during Calcalist and Bank Leumi's National Economic Conference held in Tel Aviv.

"It is a tremendous market that could help bolster agriculture and industry," Shaked said. Referring to the current chaos seen in the Israeli medical cannabis industry following the implementation of a recent regulatory reform, she said medical cannabis should be made a prescription medication like any other.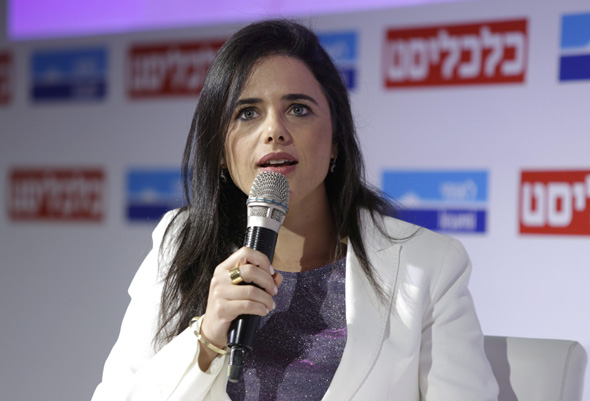 Ayelet Shaked at the conference. Photo: Amit Sha'al
Regarding accusations made against Israeli Prime Minister Benjamin Netanyahu of harming Israeli democracy by attacking the Israeli legal system and most Israeli media outlets, Shaked, who was previously Minister of Justice under Netanyahu, said that Israel is "part of an exclusive club of 21 countries that were founded as a democracy. We have a strong legal system and free media, so any cries to the contrary are excessive."
Referring specifically to Netanyahu's latest call to boycott Israeli Channel 12, which recently published leaks from the legal cases against him, Shaked said that Netanyahu "is conducting a campaign. The attack on Channel 12 is part of that campaign."
The Israeli election is set for September 17.