Mind the Tech 2019
Strategic Partnerships Make it Easier to Break Glass Ceilings, Says Yazamiot Founder
Hilla Ovil-Brenner, the founder of Yazamiot, a non-profit organization with over 5,000 members that promotes female entrepreneurship in Israel, spoke at a female entrepreneurship meet held during Calcalist's third Mind the Tech conference in London
Strategic partnerships make it easier to break glass ceilings, said Hilla Ovil-Brenner, the founder of Yazamiot, a non-profit organization with over 5,000 members that promotes female entrepreneurship in Israel. Brenner spoke at a female entrepreneurship meet during Calcalist's third Mind the Tech conference in London, held as a follow-up to an event held by the British Embassy in Israel in March this year. In the first event, the Embassy invited a delegation of 18 female tech executives and entrepreneurs to Israel, where they met with Israeli counterparts and potential partners.

The meet took place at 5 p.m., the traditional time for afternoon tea parties. Dozens of women attended, investors and entrepreneurs alike. Some of the entrepreneurs pitched their startups to their female counterparts.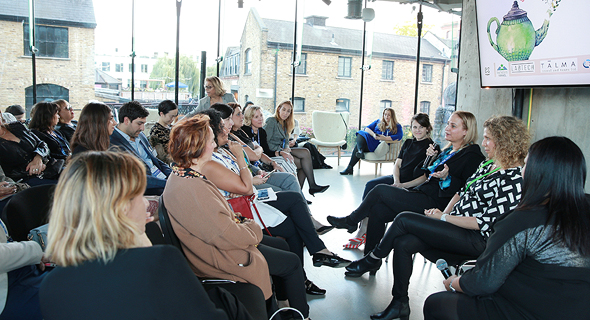 The female entrepreneurship meet. Photo: Orel Cohen

A panel featuring Merav Weinryb, managing director of Qualcomm Ventures Israel, Shirona Partem, head of development at London-listed cybersecurity company Kape Technologies PLC, and Ofir Ben Nun-Steinberg, co-founder of brokerage service Interactive Israel Trading, was held during the meet.

For more from Mind the Tech, click here.

Partem explained that she is in charge of scouting and acquiring startups for Kape, and therefore meets with many startups. "Over the past few years, I have not come across even one startup founded by women," she said.

Ben Nun presented findings from several studies that found that women, on average, are better investors than men, and typically achieve higher returns on their investments. "We are better at multitasking, and on the other hand, we take less risks and know to cut our losses when necessary," she said.

"I used to sit at boardrooms that were filled by men, and I never thought it was strange," Weinryb said. "Only recently have I started meeting more women around the table and it brings me joy." Weinryb said she has one piece of critical advice: "keep yourself surrounded by mentors, by people who have done it first, don't try everything immediately by yourself."

"Women who listen to mentors make less mistakes," she added.