Mind the Tech 2019
The U.K. Has a Strong Tech-Focused Post-Brexit Strategy, Says KPMG Partner
Over 100 Israeli startups met with 25 U.K. and European corporations and investors during the Meet and Pitch event held during Calcalist's third Mind the Tech conference in London
Over 100 Israeli startups met with 25 U.K. and European corporations and investors during the Meet and Pitch event held during Calcalist's third Mind the Tech conference in London Thursday.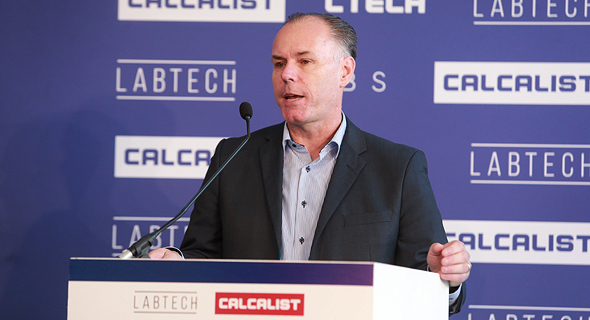 Kevin Smith, senior partner at KPMG United Kingdom. Photo: Orel Cohen
The U.K. has a strong post-Brexit strategy, with a focus on large investments in AI and mobility that will turn the country in an innovation superpower, said Kevin Smith, senior partner at KPMG United Kingdom, during the opening of the event. "The European venture capital market is characterized by an increase in innovation," he said, adding that it is currently seeing a historical record.
For more from Mind the Tech, click here.
The London tech scene has retained its resilience in the face of Brexit, he said, and U.S. investors are still looking for local deals. The number of tech jobs in London has also grown from 327,000 in 2017 to 570,000 now, he said. While Brexit will have a significant impact, it is one factor out of many, and the increase in both local tech jobs and investments point to London staying a major center even after Brexit, he said.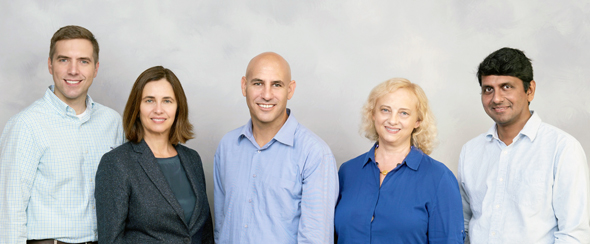 Duality's founders. Photo: PR
For more from Mind the Tech, click here.
Duality
Founders: Shafi Goldwasser, Alon Kaufman, Rina Shainski, Vinod Vaikuntanathan, Kurt Rohloff
Raised to date: $4 million
Founded: 2016
Employees: 20 in Israel and the U.S.
Encrypted data collaboration startup Duality Technologies Inc. develops technologies that enable sensitive content to be analyzed and shared by partners through encryption, without relinquishing data privacy. Though a young company, Duality is sparking much interest in the industry, in part due to its founders, especially Turing award winner Goldwasser. Rohloff and Vaikuntanathan complete the scientific basis of Duality, while Shainski and CEO Kaufman have both a technological and business background.
Those names saw Duality gain a $4 million seed investment from cyber think tank and startup foundry Team8. The company's product is based on homomorphic encryption, a technology developed a decade ago in academia but without a practical implementation until now, and is currently being piloted in several large organizations and financial institutes. During the event, Shainski explained that the technology is bolstered by GDPR and by advances in computation and algorithms.
Duality's technology is intended mainly for large organizations, for example banks, that want to share information for a common cause such as fighting against money laundering without sharing more information than is required. Another use for the technology, for example, is to enable health maintenance organizations who collected vast amounts of data to provide external analysts with the data without worrying that data will be used for unrelated ends.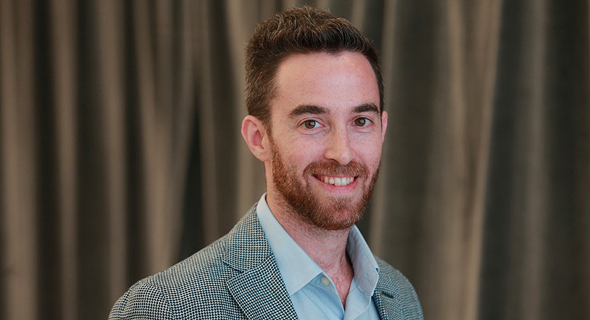 Supersmart founder and CEO Yair Cleper. Photo: Orel Cohen
Supersmart
Founder: Yair Cleper
Raised to date: a few million dollars
Founded: 2015
Employees: 30 people in Israel
Sick of waiting in line at the supermarket? Instant checkout company Supersmart Ltd. has a solution, a technology that utilizes scan-and-buy apps to scan the entire cart in three seconds and offers the option of paying without waiting in line. Many of the apps in the market today still have a human bottleneck when the cashier needs to verify the app's scan at the end, Cleper explained. "Last year there was a 100% increase in retailers that offered self-scan apps, but on the other hand, mistakes or theft are estimated to cause losses worth $50 billion a year in the U.S. alone."
Radio-frequency identification (RFID) tags, a much-used technology today, cannot be used if the retailer does not control the entire supply chain, Cleper said, and also does not work for full carts. "We created a novel concept that classifies each product and creates a digital signature that enables use to identify it in three seconds." The company developed a special device for the scan, which includes sensors, cameras, and a scale, and can be set up in any shop with no need for special infrastructure.
When Supersmart starts working with a new client, the process initially takes a few weeks to create a digital signature for all products. Then it can be deployed in any store within a few hours. The company already works with the Osher Ad chain in Israel and the Metro Supermarkets chain in Europe. Supersmart currently serves a few hundred thousand consumers a month, Cleper said.
The company's next objective is automatic identification of products without the need for initial scans, though according to Cleper, the barriers are not just technological. The company is currently in the midst of a funding round, intended to finance expansion into new countries, and is also working on partnerships with retailers in other domains such as fashion, pharma, and do-it-yourself shops.
Run:AI founders Ronen Dar (left) and Omri Geller. Photo: PR
Run:AI
Founders: Omri Geller and Ronen Dar
Raised to date: $13 million
Founded: 2018
Employees: 15 people in Tel Aviv
Tel Aviv-based data science startup Run:AI develops software for automatically optimizing the use of computer resources for deep learning processes. The company's software builds a virtual computation layer, turning separate available computing resources into a single virtual computer and helping companies that develop AI do it quicker and easier, said Geller, the company's CEO. The company's technology, which is used for image processing, computer vision, autonomous vehicles, and retail, can cut down on system development by 10 times, he said.
The company's business model relies on selling licenses for its technology.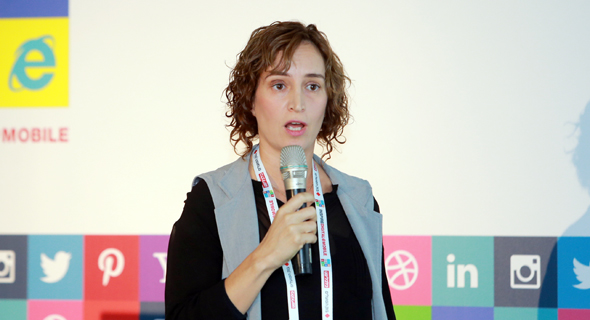 Papaya founder and CEO Einat Guez. Photo: Orel Cohen
Papaya
Founder: Einat Guez
Raised to date: $5.5 million
Founded: 2016
Employees: 70 people, mostly in Tel Aviv, with offices in the U.S. and Australia
Payroll management startup Papaya Global Ltd. offers a system that automates payroll processing, labor law compliance, and other aspects otherwise handled by human resources departments. Papaya provides services in over 100 countries and reports 100 clients globally, including GitHub Inc., Teradata Corporation, and Robinhood Markets Inc. Israeli clients include CyberArk Software Ltd., Fiverr Int. Ltd., Wix.com Ltd., and Dynamic Yield Ltd.
The company intends to launch a payment platform in 2020, according to CEO Guez. "We will create a system that will enable companies to pay all their employees," she said. "It is a demand that has originated with the companies we work with that want a complete solution. I estimate that with the new system we will reach a billion dollars in wages paid through us, and make a significant jump in our revenues." Guez added that the company has tripled its revenues every year and is expected to quintuple them in 2019, and also increase its employee pool to 150 by mid 2020.
"If, until now, we were seen mainly as an HR company, I believe that soon people will understand that we are also a strong fintech player," Guez said.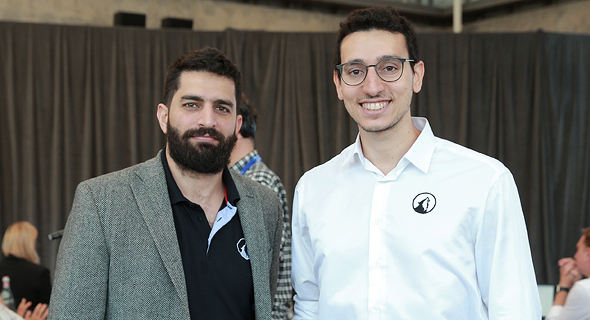 Two of Vicarius' founders, Michael Assraf (left) and Roi Cohen. Photo: Orel Cohen
Vicarius
Founders: Michael Assraf, Roi Cohen, Yossi Zeev
Raised to date: $2.5 million
Founded: 2016
Employees: 15 people
Vicarius Ltd. develops machine learning technologies that analyze cyber attack patterns and use the insights to predict vulnerabilities. The company's technology uses reverse engineering to identify network weak spots, and also employs users as would-be hackers to test sensitive aspects. The company currently has 10 clients, most from the financial or security spheres.
"We attack the different software and show the network administrators the weak spots," Cohen explained. "Sometimes it is not an external software but something developed in-house." Vicarius' uniqueness lies in its ability to forecast events without prior knowledge of an organization and the software it uses, he added. The company's technology can also prioritize management of identified vulnerabilities, he said.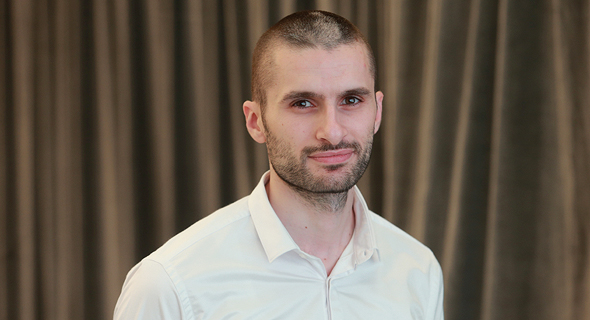 Loop founder and CEO Wasim Abu Salem. Photo: Orel Cohen
Loop
Founder: Wasim Abu Salem
Raised to date: $80,000
Founded: 2015
Employees: 15 people
When Wasim Abu Salem was a 13-year-old boy in Nazareth, he wanted to establish a startup but struggled, eventually deciding to learn English in order to better understand Youtube programming tutorials. After graduating with a BSc in law and computer science in 2015 from the University of Haifa, he realised his real dream was offering kids like him a place to learn programming, which led him to establish Loop CS, a venture he defines as a sort of technological youth movement.
Today, around 11,000 children take part in Loop, mostly in Israel's north. Mentors include university students and employees from companies like Microsoft, some who are paid and some who volunteer. According to Abu Salem, the main objective of the program is that graduates will not only work in tech themselves in the future, but also come back and mentor future generations of Loop. He is currently investigating options of setting up similar programs outside of Israel, initially in London.
"Just as Messi was scouted in Argentina at age 13, we can identify the kids that will become tech entrepreneurs in the first or second grade," Abu Salem said. "We created a program that will guide them for years."
He participated in the conference following his win of the "promising Arab startup" competition held by ArabTechPort, which is backed by the U.K. Israel Tech Hub.
Loop's first home-grown startup is currently in the works—a startup called Oseela, set up by one of the program's first participants who is currently in the tenth grade. It combines games similar to Pokemon Go with touristic and educational content in order to make family trips more interesting.