Dutch Army to Implement Elbit's Infantry Defense System in 150 Vehicles
Elbit's iron fist active protection system uses independent optical sensors, tracking radars, launchers, and munitions to detect, track, and neutralize incoming threats
The Royal Netherlands Army is set to implement infantry defense systems by Israeli defense contractor Elbit Systems Ltd. in 150 vehicles, European defense contractor BAE Systems Plc announced Tuesday. BAE was selected to integrate Elbit's iron fist active protection system (APS) systems into Dutch CV90 vehicles. While the financial details of the deal were not disclosed, it is estimated at approximately $200 million, according to one person familiar with the matter who spoke with Calcalist on condition of anonymity.

The Dutch army is the third buyer of Elbit's iron fist, following the U.S. Army and the Israel Defense Forces (IDF). The system uses independent optical sensors, tracking radars, launchers, and munitions to detect, track, and neutralize incoming threats to protect the vehicle.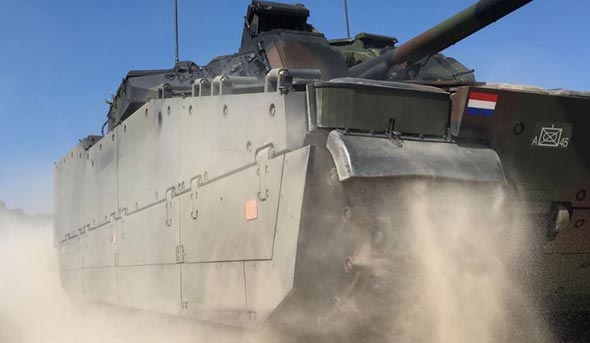 Dutch CV90 vehicle. Photo: BAE Systems

Established in 1966 and headquartered in the northern Israeli city of Haifa, Nasdaq and Tel Aviv-listed Elbit and its subsidiaries operate in a variety of military-oriented and technological domains, including electro-optical systems, command and control systems, and unmanned aerial vehicles. Elbit employs around 12,500 people worldwide, 10,000 of them in Israel.

In July, Elbit announced its subsidiary Cyber Intelligence Ltd. will be providing the Dutch National Police with a cyber intelligence system.