Six Companies Disrupting the Coffee Industry, or at Least Giving it Their Best (Espresso) Shot
From latte art to CBD infused drinks, these Israel-linked companies are revolutionizing everyone's favorite morning energy booster
Cars need fuel and humans need coffee, those are undeniable truths. Whether you are a morning espresso or an afternoon latte type of person most of us need our daily dose (or doses plural) of energy in a cup.
Below are six Israel-linked companies aiming to disrupt the coffee industry, one cup at a time.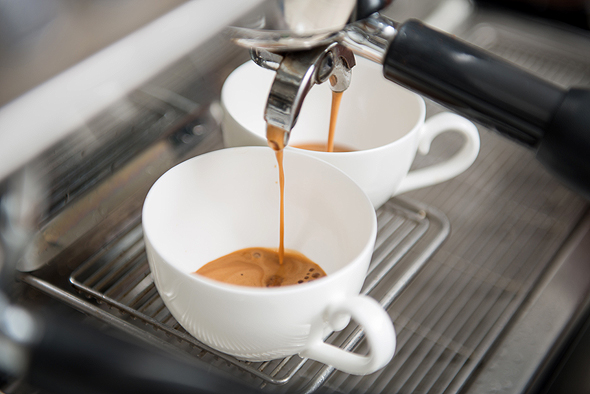 Coffee. Photo: Shutterstock

Ripples

Year founded: 2015

Founder: Yossi Meshulam

Ripples, incorporated as Steam CC Ltd. develops and markets a machine designed to embed images or text into the foam layer of coffee and beer. Dubbed the Ripple Maker, the machine uses 3D printer mechanics with inkjet printing technologies to print designs using a natural coffee extract. The company's device can produce high-resolution images and messages onto lattes, cappuccinos or any foam-topped beverage.

Cups

Year founded: 2014

Funding to date: $3.3 million, according to Startup Nation Central

Founders: Alon Ezer, Gilad Rotem

Urban Cups Holdings Inc. develops an app that helps users locate independent coffee shops in cities including New York, San Francisco, and Nashville. In addition to introducing users to smaller businesses, the app also lets coffee drinkers order and pay through their mobile phones, offering a 15% discount at participating cafes and prepaid plans. The app also lets users gift coffee credit to caffeine-addicted friends.

Cannibble

Year founded: 2018

Funding to date: $1 million through Israeli crowdfunding platform Pipelbiz

Founders: Yoav Bar Joseph, Elad Barkan, Asaf Porat, Ziv Turner

Cannabis-enriched food company Cannibble FoodTech Ltd. develops iced coffee mixes that the company says could get consumers high. Cannibble's products are enriched with THC, the psychoactive component in marijuana, and CBD, which is considered to have medicinal benefits. Cannibble also develops other pre-made food and beverages spiked with THC and CBD, such as cake mixes, sweeteners, pizza toppings, and popcorn.

Tairob

Year founded: 1997

Founder: Isaac Taitler

Tairob Ltd. develops a milk-foaming machine that creates naturally sweet foamed milk from cow, goat, or soy milk. The company's micro milk maker naturally sweetens and prepares the uniformly dense micro-foam milk to the thickness needed for creating latte art. The company explains that when creating the micro-foam, the proteins of the milk are altered, naturally making it sweeter without adding sugar or other sweeteners.

Milkit

Year founded: 2013

Funding to date: $1.2 million

Founders: Assaf Blank, Maayan Kahn, Yaacov katz

Based in central Israeli town Herzliya, Milkit Ltd. offers cafes and restaurants an electric milk-dispensing system that delivers accurately-measured doses of milk at the push of a button. The system connects to a patented 10 to 15-liter milk bag, saving on single-use milk containers and helping to reduce milk waste through the use of a programmable, accurate pour. The company lists the Carleton hotel in Tel Aviv and chocolate manufacturer and cafes chain Max Brenner International Inc. as customers.

Hashmugs

Year founded: 2017

Founder: Daniel Shoshani

Hashmugs has developed an augmented reality app designed and developed specifically for the coffee industry. The company's mobile app allows coffee drinkers o engage with augmented reality content while enjoying their morning brew. The company's app only works with Hashmugs' own line of mugs, enabling users to add stickers, animations, and quotes. Proceeds from Hashmugs' products go to Coffee Kids, a Brooklyn-based nonprofit providing training, mentoring, and financial support to young coffee farmers in developing countries.