Over 2 Million Passengers Expected to Pass Through Ben Gurion Airport During Jewish High Holidays
The busiest day this month at the airport will be this Thursday, the last workday before the Jewish New Year's when 108,000 passengers will travel on 710 international flights
Starting next week with the Jewish New Year's, also known as Rosh Hashanah, on Sunday September 29, and culminating with Sukkot on October 21, the Jewish High Holidays and the days leading up to them are expected to see 2.4 million passengers traveling through Israel's Ben Gurion Airport, according to a statement released Sunday by the Israel Airports Authority (IAA). The busiest day this month at the airport will be Thursday, September 26, the last workday before Rosh HaShana, when 108,000 passengers will travel on 710 international flights, according to IAA's statement.

Last month, the airport saw its busiest month ever with 2.8 million passengers buzzing through it, the IAA said in a statement. October will see an estimated 2.3 million travelers through the airport.

The most popular destinations for flights leaving Israel's main airport during the holiday season are Turkey, Greece, the U.S., Italy, and Russia, the IAA said.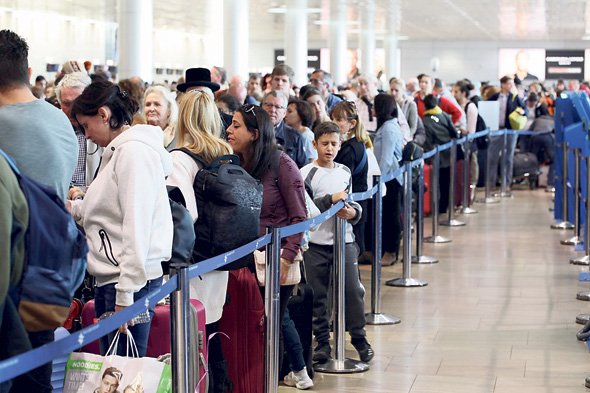 Passengers at Ben Gurion Airport. Photo: Aner Green