Analysis
WeWork's Problems Are Bigger Than Neumann
WeWork's co-founder is just a symptom: an enthusiastic young man who flew too high too fast with the support of his investors. SoftBank and WeWork's real problem is the latter's business model, and that's going to be a lot harder to fix
Entrepreneurs may be the rockstars of the tech world, but at the end of the day, it is the behind-the-scenes money that has the last say. Uber founder Travis Kalanick discovered it when he was ousted before Uber went public. Now WeWork co-founder and CEO Adam Neumann has learned the same lesson—the hard way.

Over the past month, Neumann witnessed cockroach theory come to life, in a process that reached its culmination Tuesday when he was dethroned from the company he founded. In laconic, professional language, WeWork announced Neumann "has decided to step back from his role," an attempt to push under the rug the drama that surrounded what was expected to be one of the largest IPOs of 2019.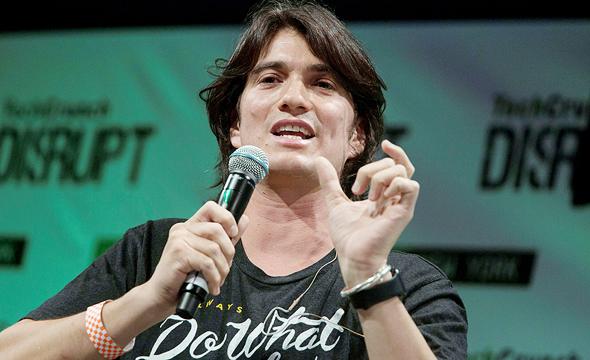 WeWork co-founder and CEO Adam Neumann. Photo: Bloomberg

WeWork's publication of its prospectus—a document that was more an ode to Neumann than a legal document intended to elucidate the company's business model—was the opening shot for a myriad of stories about Neumann's eccentric behavior. At first, it could have been attributed to the heightened public interest in WeWork, but as time passed, the existence of a guiding hand became more probable. The stories peaked with a Wall Street Journal exposé that revealed Neumann and his compatriots smoked pot during a recent flight from the U.S. to Israel, and then stashed the leftover pot in a cornflakes box on the private plane.

SoftBank, who built Neumann and his company up to gargantuan heights by stuffing them full of funding, realized there was a problem as soon as the prospectus was published and feedback started rolling in. Almost immediately, it became clear that WeWork had no hopes of achieving a $50 billion valuation, like Masayoshi Son, the founder and CEO of Saudi-backed SoftBank, had originally hoped for. When WeWork's excels came into contact with Wall Street, it turned out to be worth $15 billion at most. Neumann wanted to forge ahead anyway—perhaps as a way to loosen SoftBank's bear hug and diversify shareholders—leading to even more reports about Son's desire to remove Neumann. The stretch from that to Neumann's resignation "of his own choice" was short.

But WeWork's problems are bigger than Neumann, who is essentially a symptom, not the root of the issue. An enthusiastic young man who flew too high too fast with the support of his investors. He could have been brought to heel, or forced to add an older, more experienced co-CEO. Venture Capital funds have been known to take that avenue before. Like Masayoshi Son helped build Neumann up, he could have built him down.

SoftBank's real problem is WeWork's business model, and that is going to be a lot harder—and slower—to get rid of. Contrary to what WeWork was trying to sell in recent years, it is not a tech company. There are no sophisticated algorithms, and it has no special advantages compared to its rivals, who can sign real estate leases and design hip office spaces with the best of them. All the company does is arbitrage between long-term leases and short-term leases, and to date all it has seen from it is a total loss of over $3 billion within the last three years.

SoftBank's latest move is intended to convince shareholders that Neumann is the real problem, and that with him out of the way the company can be cleansed of the new age culture and personality cult that Wall Street found so off-putting.

It will be interesting to read WeWork's new prospectus when it once again attempts to go public, this time without the massive emphasis that was put on Neumann's status as a visionary crucial to the company's continued existence. Without a change to its business model, and now without the charismatic Neumann, what story could WeWork sell to investors?