First Day of Carpool Lane a Success, According to Transportation Ministry
On Friday, Israel's Ministry of Transportation inaugurated high occupancy vehicle (HOV) lanes in two Israeli highways
Israel's Ministry of Transportation has deemed its new carpooling lanes a success following a weekend of operation. On Friday, the ministry inaugurated high occupancy vehicle (HOV) lanes in two Israeli highways: Highway 20, also known as Ayalon Highway, and Highway 2, which stretches along the coast from Tel Aviv to the northern city of Haifa. The new lanes are available to all vehicles with more than one passenger. On Sunday, the transportation ministry announced the HOV lane on Highway 2 has led to a 10-15 minutes reduction of time spent in traffic to drivers heading towards Tel Aviv.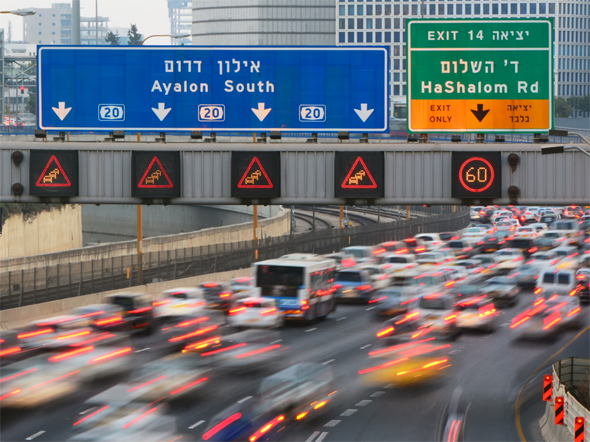 Traffic in Tel Aviv. Photo: Shutterstock

According to the transportation ministry, the Highway 2 HOV lane has yet to demonstrate a significant reduction in travel time. That said, the ministry noted that real results would be available after the Jewish High Holidays season later this month.

The new lanes are intended to reduce traffic congestion and motivate drivers to carpool with additional passengers. According to data by the ministry, each private vehicle on Israel's roads carries 1.2 people on average, driver included. The number of private vehicles on Israel's roads rose by 16% over the last few years, from 2.46 million in 2014 to 2.98 million in 2018.