BiblioTech
CTech's Book Review: A Whole Latte Vision
KPMG chairman Jonathan Lavender on Howard Schultz's "Pour Your Heart Into It: How Starbucks Built a Company One Cup at a Time"
Jonathan Lavender is the chairman of KPMG Enterprise and the co-chair Global KPMG Enterprise Family Business KPMG International. This is his pick for the best technology book he has read recently.

Title: Pour Your Heart Into It: How Starbucks Built a Company One Cup at a Time

Authors: Howard Schultz

Format: book

Where: on the plane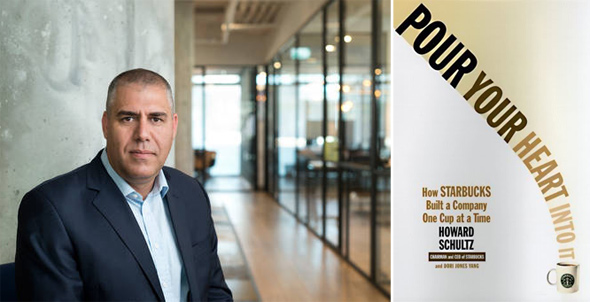 Left: Jonathan Lavender, KPMG. Photo: PR. Right: Pour Your Heart Into It

Summary: using a very conversational tone, the former Starbucks CEO tells the story of the company's meteoric rise from a local Seattle coffee roaster to a coffee empire and a global phenomenon.

Bottom line: it's a story of turning passion and values into profit and how a company can be built in a different way.

What I've learned:

"Customer experience is everything" might be an obvious business concept today, but it was certainly not the case when Starbucks started its journey back in the mid-1980s. To me, Howard Schultz is a true customer experience pioneer. He had a clear vision—to change and improve the way Americans drink coffee, and to turn it into a commodity that is both premium and ubiquitous.

This transformation is much bigger than coffee: Starbucks has become "The Third Place" in people's lives, where they hang outside of home and work. I believe that turning products into experiences is something every brand should work on today.

This book is not only a classic Cinderella story of someone who had risen far above his humble upbringing and became a self-made man. It's the story of business wisdom. Defying all logic, Schultz left a successful career, stepped into a totally unfamiliar territory, and took enormous risks. He was extremely persistent, and studied the coffee world to its core while paying extreme attention to details and refusing to cut corners. He hired managers which he says were smarter than him and placed as much importance on the company's employees as he did on profits.