Gender Diversity Report: Israel Falls Behind on Number of Female Directors
The Gender 3000 report series published annually by the Credit Suisse Research Institute surveys 30,000 executive positions in 56 countries
Gender diversity at work, and especially in high-ranking positions of the private and public sector, has been a hot topic for a while now, with some countries going as far as passing laws intended to increase diversity. According to a report published Thursday by the Credit Suisse Research Institute, Israel performs well on some parameters of gender equality but falls below the average on others.
Credit Suisse publishes its Gender 3000 report series once a year, surveying gender diversity within the governance and executive leadership teams of over 3,000 companies, spanning 30,000 executive positions across 56 countries.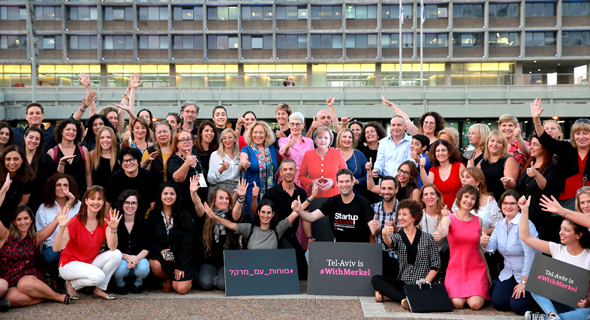 Women in Tel Aviv protesting gender innequality in the tech industry. Photo: Orel Cohen
On average, women now make up over 20% of board members, according to the report, compared to 15% three years ago and around 10% a decade ago. There is a geographical difference—while women make up only 6% of board members in Japanese companies, their number stands at around 30% in Europe, with Norway and France being the high performers with over 40%. The U.S. stands at 24.7%, but receives the most improved award as their number stood at 17.3% in 2015. Israel scores under the global average, with just 16% of board members being female.
Some of the difference is down to legalization: France demands that its 500 largest companies have at least 40% female board members, while Germany demands at least 30%. In China and Hong Kong, however, the law demands some diversity but sets no specific number. In Israel, state-owned companies must have at least 50% female representation on their board, but public companies can get away with just one token female boardmember.
When it comes to women in management positions, things are less optimistic, according to Credit Suisse. The global average stands at 18%, with the European average falling slightly below, at 17%. The difference is likely the result of the fact that most relevant regulation focuses on company boards and not on administration, which is dictated by free-market forces. This suggests that without laws securing seats for women on company boards, gender diversity would have been much lower. The report did find that companies with a larger female representation on the board tended to have a larger female representation among its management.
It is here that Israel rises above, surpassing even most European countries with a representation of 22%, while the U.S. stands at 21%.
The situation is even worse regarding top management positions, according to the report: on average, women make up only 5% of CEOs and only 15% of chief financial officers.
The authors of the report also searched for a correlation between female representation and performance. The companies surveyed were divided into three groups: those who had fewer than 15% women in management positions, those above 20%, and those with over 30%. The stock performance of all companies was then analyzed as of 2010. The last two groups, those with 20% women or above, showed a consistently higher profile of returns when it comes to both level and variability of returns, according to Credit Suisse, though the institute notes there was no major difference between the above 20% group and the above 30% group.
Though the report's authors state that some of the difference might be due to sector differences—industries such as retail, healthcare, insurance, and consumer services tend to have a higher number of women compared to technology hardware, semiconductors, and automotive—they have also estimated that diversity among the management and board benefits strategic decision-making.