Cancer Freezing Company IceCure Signs Partnership With Oregon Hospitals
IceCure's device injects liquid nitrogen into a tumor, freezing the tumor tissue
Technology by Tel Aviv-listed cancer freezing company IceCure Medical Ltd. has been successfully used recently during a procedure in a breast cancer patient in Oregon, the company's vice president of marketing Tlalit Bussi Tel-Tzure confirmed in an email to Calcalist Wednesday. The procedure is part of a new partnership between IceCure and Legacy Health Good Samaritan, a non-profit organization that operates several hospitals in Portland.

Founded in 2006 and headquartered in Israel's affluent coastal town Caesarea, IceCure develops a device that functions as an ultrasound imaging-guided probe that injects liquid nitrogen into a tumor, and freezes the tumor tissue in a process called cryoablation. The destroyed tumor cells are then reabsorbed in the body over time.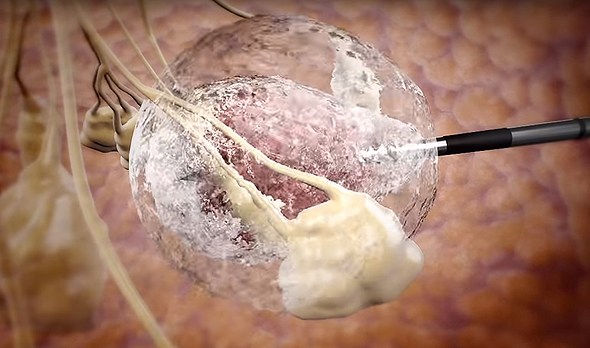 A rendering of IceCure's technology. Photo: IceCure Medical Ltd.

The company's first market was Japan, where more than 300 patients were treated using the device since 2013. Today the company's devices are also used in several European countries, Singapore, Thailand, New York, and in Israel, where they are used to treat kidney, lung, and bone cancers, and benign breast tumors.