BiblioTech
CTech's Book Review: Talent Plus Persistence Equals Success
Orna Kleinmann, the managing director of SAP Labs Israel, on Malcolm Gladwell's "Outliers: The Story of Success"
Orna Kleinmann is the managing director of SAP Labs Israel. This is her pick for the best technology book she has read recently.

Title: Outliers: The Story of Success

Author: Malcolm Gladwell

Format: paperback

Where: at home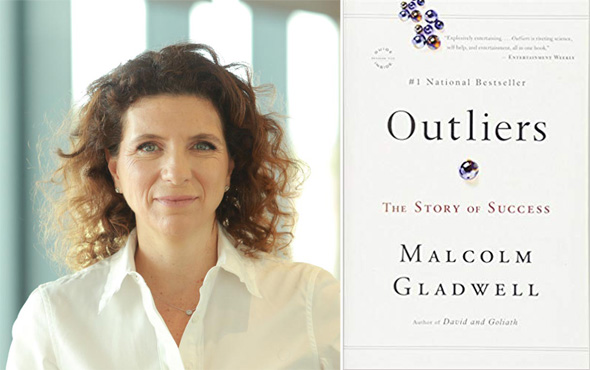 Left: Orna Kleinmann, the managing director of SAP Labs Israel. Photo: Orel Cohen. Right: Outliers: The Story of Success

One-liner: Talent plus persistence equals success in your field.

Summary: Malcolm Gladwell accumulates and combines records made by researchers from different disciplines and integrates them into a unique observation that helps to see our world in a different light.

Multiple observations such as the odd concentration of successful hockey players born early in the year and the amount of practice performed by the Beatles and Bill Gates are described throughout the book.

Looking into each of these stories, it seems like luck is a major factor when it comes to success, but the key element is understanding which components are important and which can catapult a smart entrepreneur to be the richest man on earth. Bill Gates was an outlier to begin with, smart and persistent, but this was enhanced by being born and raised in a location that, among other things, gave him access to unlimited programming resources together with friends that were interested in programing and companies that looked for software solutions in a time of crisis.

Bottom line: exceptional success occurs when this rule is applied in a broader way. One can be the best in a specific field, but it is better to be the best in a field that is at the forefront of an evolving industry, thus leading the disruption. If you add the leveraging of network effects, the right way can create a unique business situation.

What I've learned: incredibly successful people are built from the ground up, combining high potential nourished by the right environment and circumstances with the critical element of relentless persistence. It may sound trivial but it is actually far from it, and the key question is what can be learned from the story of ultimate outliers and implemented in our business lives.

The evolution of exceptionally successful people or teams is diversified, but many key elements are shared. One such element is the 10,000 hour rule: talented people, practicing relentlessly over a long duration, will become outliers, and if other components are present outstanding performance can be achieved.

Critique: the stories of Bill Gates, Mark Zuckerberg, and the Beatles carry a strong mythic aura that overshadows the actual stories of the people and the way they became so successful. Turning these hindsight narratives into tools of "what should I do tomorrow morning?" takes extreme analytical capabilities and discipline.