In Israel, Academia Is a Woman's Game, Until it Comes to STEM
New data shows that 60% of Israeli students are women, but less than 35% of engineering and computer science students are female
The number of male students studying for a bachelor's degree in Israel has been continually dropping, reaching an all-time low of just 42% of all students in the country for the next academic year starting next week, according to data published Tuesday by government agency The Council for Higher Education in Israel. Men constitute just 40% of the total number of students in the country, the data showed.

The academic year will start Sunday, with 313,600 students studying at 61 academic institutions throughout Israel.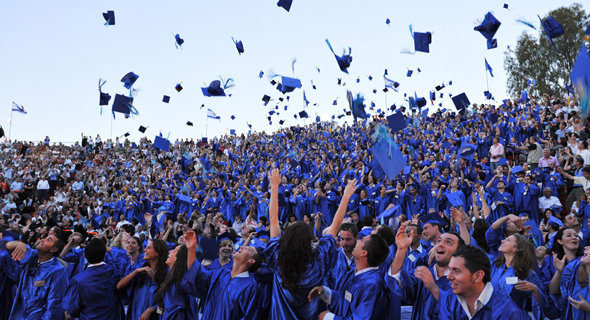 University graduation (illustration). Photo: Yotam From

Existing data shows that the decrease in male students is not just relative, but absolute—if in 2010, 100,300 men were enrolled as undergraduate students in the country, in 2019 there were just 96,7000 male students, a 4% decrease. Taking into account that the overall number of men in the relevant age group of between 20 and 24 has risen by 11% during the past decade, the actual decrease in male students is 13%. The number of women undergraduates saw a 12% rise in 2019, representative of the growth in the respective age group.

One possible explanation for the drop in male students in Israel has to do with two of the country's minority groups whose relative size within the relevant age group is on a continuous rise—ultra-Orthodox (Haredi) Jews and Arabs with Israeli citizenship. In both populations, significantly more women than men are enrolled in academic studies.

According to the council's data, two-thirds of the 50,000 Arab students in Israel this year are women. Among the Haredi population, 78% of students qualifying for a degree between 2011 and 2017 were women, according to a report published by the Israeli State Comptroller in May. This could be explained by the fact that girls from the Haredi community learn English and math in high school, while boys focus exclusively on religious studies, giving female Haredi students an advantage.

According to the Israeli parliament's Knesset Research and Information Center, 55% of female high school graduates begin academic studies within 10 years of graduating, compared to just 42% of male graduates. The phenomenon of men forgoing higher education is attributed by some academics to shifts in the Israeli workforce.

"Young people today believe it is possible to make a living without an academic degree so they do not bother with it," sociologist Lilach Ben-Ari of Bar Ilan University and Oranim Academic College of Education said in an interview with Calcalist. According to Ben-Ari, men tend to be less conformist than women, so it makes sense more of them are willing to take a chance by not pursuing higher education.

While women are the majority of students in most subjects, including architecture (70%), business administration, physics, and medicine (60% each), they are still far behind when it comes to tech-related subjects. According to the council's data, the number of female computer science bachelor students has doubled over the past decade from 2,600 to 5,600 this year. The number of female engineering students grew from 8,600 to 10,400. But when compared to the number of male students, women amount to just 33% and 30% of students in these subjects, respectively.