Warehouse Robotics Startup Fabric Raises $110 Million
Turning underutilized urban retail spaces into delivery centers where robots store, sort, and process inventory, the company aims to tackle the last mile distribution challenge
New York-headquartered warehouse robotics startup Fabric, incorporated as CommonSense Robotics Ltd., announced Wednesday that it has closed a $110 million series B funding round led by Corner Ventures with participation from Tel Aviv-based Aleph Ventures, Canada Pension Plan Investment Board (CPPIB), Innovation Endeavors, La Maison, Playground Ventures, and Singapore's Temasek.

In an interview with Calcalist, Fabric co-founder and CEO Elram Goren said the round ended up being significantly higher than initially planned, due to "high demand."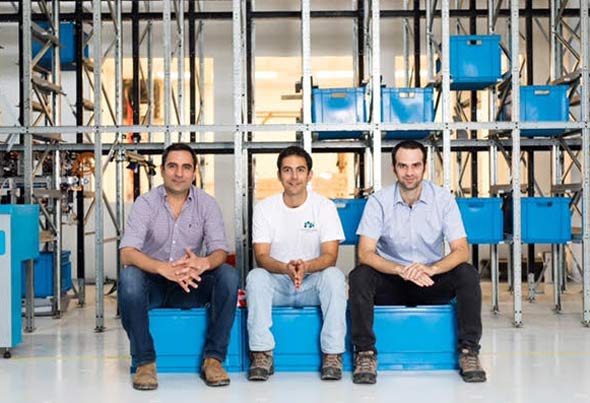 Fabric founders Ori Avraham (left), Elram Goren and Eyal Goren. Photo: PR
Founded in 2015 in Tel Aviv, Fabric develops robotics technologies that enable urban retailers to offer quick deliveries of food and pharma products. Turning underutilized retail spaces into delivery centers where robots store, sort, and process inventory, the company aims to tackle the last mile distribution challenge, making 1-hour deliveries within a city a viable and affordable option for retailers.
Fabric has raised $136 million to date and employs a team of 130 people in both New York and Israel. With the new funding, Fabric plans to expand its team in both Israel and the U.S.