In Depth
Rising Patriotism in China Has Rekindled Sports Brand Li-Ning's Flame
The Chinese sportswear company saw its stock jump 200% since the beginning of the year as more and more Chinese consumers turn to home-grown brands. Can it challenge Nike and Adidas on its home turf?
Those looking to make a killing on the stock market should look no further than Chinese sportswear and footwear brand Li-Ning Co. Ltd. The company traded at 8.3 Hong Kong dollars per share at the end of 2018, but reached 26.6 Hong Kong dollars on the Hong Kong Stock Exchange by Thursday market close, an increase of over 200% in less than a year.

Li-Ning's dizzying climb got a stamp of approval from Morgan Stanley, which raised its price target from 22 Hong Kong Dollars to 29.2 Hong Kong dollars earlier this month. Bloomberg went as far as crowning Li-Ning as "the hottest sportswear brand in the world" at the moment.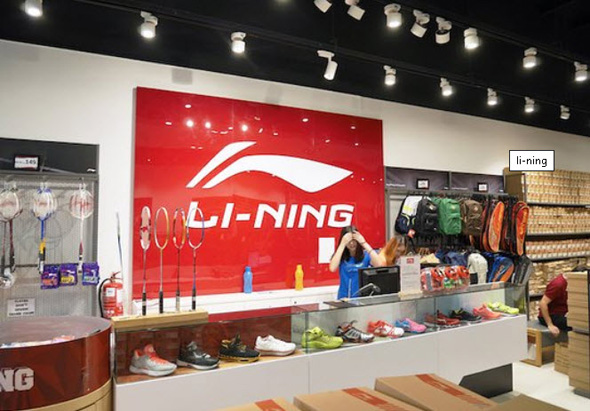 A Li-Ning store. Photo: TripAdvisor

For Li-Ning, the stars aligned perfectly this year when the rising popularity of recreational sports in China converged with rising patriotic sentiment in the country, boosted by the U.S.-China trade war. What's more, Li-Ning can only benefit from China's recent strife with the NBA, which is still far from over. Overall, Li-Ning's recent value increase highlights one of the most impressive comebacks in the Chinese business scene, which saw the company go from a failing brand to a vibrant one.

Li-Ning is named after its founder, legendary Chinese gymnast Li Ning. In the Los Angeles Olympic games of 1984, the first games China participated in after a three-decade ban, he won six medals, three of them gold, topping 11 additional medals won in world championships. To the Seoul games four years later he arrived injured and failed to place on the podium, leading him to announce his retirement. In 1990, at 26, he founded his namesake company, the first Chinese sportswear brand. The company went public in Hong Kong in 2004.

Li-Ning peaked in 2008, after the Beijing Olympic games. Li hovered over the stadium to light the Olympic torch, providing the company with a huge PR boost. But its success was its undoing: the company expanded much too rapidly, opening over 8,000 stores across China, many of which turned out losses instead of profit. Using its new Olympic association, Li-Ning abandoned its low-cost model and tried to rebrand as a premium brand capable of meeting market leaders Nike and Adidas head on. But the company ended up losing on both ends: more discerning Chinese consumers still preferred foreign brands, while old clientele abandoned the company for cheaper brands like ANTA and Peak. In 2011, Li-Ning recorded reduced revenues for the first time since its foundation. In 2012, the company started recording losses.

Li-Ning's bellicose expansion attempts to Europe and the U.S. as of 2010 did not help its bottom line either. The company was bold enough to set up a giant store in Portland, right across from Nike's global headquarters. In 2012, Li-Ning signed its largest superstar presenter, NBA player Dwyane Wade, but even that didn't help. The company failed to establish itself in the west and closed its U.S. operations after burning through its funds.

And then came TGP. Global asset firm TPG, known for its ability to turn around companies, led an aggressive reorganization plan in Li-Ning that saw the company close 2,000 stores in China and update its inefficient management methods. In 2015, Li-Ning was finally profitable, after three years of losses. So far, 2019 is looking to be Li-Ning's most successful year yet, with the company recording $882 million dollars in sales for the first six months of the year, a 33% year-over-year increase. Its net profit for the same period jumped by 196%.

Li-Ning is a major benefactor of the increased popularity of sportswear in China in recent years, the result of a growing middle class, more free time, and increased awareness of health-related issues. Sports receive major funding from the government, leading to an increase in public sports activities, such as marathons. In 2015, there were 79 cities hosting marathon events in China. By 2017, that number rose to 234. Today, China is the largest market for sportswear after the U.S., expected to grow by an annual average of 11% until 2022. Nike, which is still the most popular brand in the category in China, has also seen double-digit quarterly revenue growth for the past five years.

But Li-Ning is also cashing in on another trend. Young Chinese consumers, who grew up in an era of Chinese economic prosperity, have recently started to display an increased propensity towards home-grown brands, which are suddenly seen as equal to if not better than Western brands. Once considered an old, outdated company, Li-Ning is now hip and on-trend.

That propensity has only grown once the trade war with the U.S. flared up, and buying Chinese has suddenly become a patriotic duty. In a survey conducted by business advisory firm Brunswick Corporation in June, 56% of Chinese respondents said they would avoid buying American products to show their support of their country. Another recent survey by Credit Suisse found that over 90% of Chinese consumers aged 18-29 will choose to buy electrical home appliances from local brands.

The trade war has added another check to Li-Ning's column: more weary of unexpected expenses, Chinese consumers are looking to cut down on costs, and the Chinese brand is still cheaper than its foreign rivals. The company might also emerge as the big winner following the recent falling out between China and the NBA, after Houston Rockets general manager Daryl Morey tweeted in support of the Hong Kong protests. Following the controversy—NBA commissioner Adam Silver said the Chinese government asked the league to fire Morey, whom he backed—China refrained from broadcasting NBA games. While Nike is the main sponsor of the NBA, Li-Ning is the main sponsor of the Chinese Basketball Association (CBA), which may see increased attention now.

Li-Ning is not a passive beneficiary of China's patriotic wave. In last year's New York Fashion Week, the company showcased a collection of shirts and sweatshirts adorned with Chinese text, which became a hit among the younger crowd. All products sported a "Li-Ning, China" logo, written in bold red letters.

Despite its recent success, Li-Ning is still far behind Nike and Adidas in the Chinese market. According to market research and data company Euromonitor International, Nike controls 23% of the Chinese sportswear market, while Adidas controls 20%. Li-Ning currently holds a 6.1% share. Though it is hard to see how the Chinese brand could overtake Nike and Adidas, patriotism could certainly help narrow the gap.

Despite previous expansion attempts, as of 2018, Li-Ning still made 97% of its revenues off its Chinese clients. But the company is increasing its presence in South-East Asia, where it is associated with the locally popular game of Badminton, as well as in other locations. In Israel, the company made its debut in 2017. Its expansion push could be aided by the September appointment of Kosaka Takeshi as executive director and joint CEO. Formerly the chief operating officer of Japanese clothing brand Uniqlo, Kosaka knows a thing or two about international success.