On Target
Insurtech: Future Policies
The insurance industry is facing a major disruption, and even appraisers and claim investigators are not safe
The insurance industry has taken a while to recover from the large technological upheaval it had experienced, which turned its agents almost redundant when it comes to selling homeowners and car insurance policies. Today, when even large companies sell policies online, the insurance industry is on the verge of the next revolution. This time, it will impact appraisers, underwriters, and those handling insurance claims.

Insurance tech is more than price comparison websites and low-cost online policies. A bevy of startups now provide more complex products, including Israel-linked Lemonade Inc., which offers an alternative insurance model of customizable property and casualty insurance policies at a flat monthly rate. Other companies develop big data and artificial intelligence algorithms that enable faster processing of claims and quicker payout. Smart vehicle evaluation tools offered by other players in the sector can cut down on small-scale fraud attempts, reducing the need for assessors and making auto mechanics much more transparent.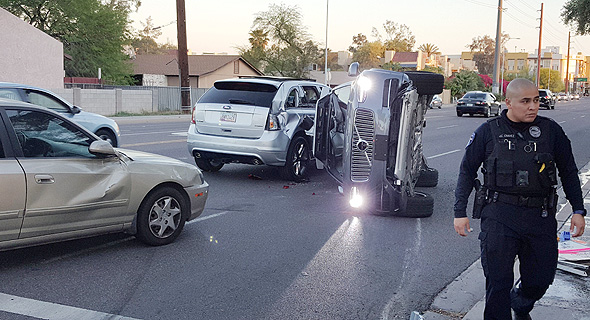 Car insurannce (illustration). Photo: Reuters

Columbus, Ohio-headquartered Root Insurance, which raised a $350 million round at a $3.65 billion company valuation in September. Root offers only auto insurance. Its app sends the driver on a little test run, tracking car speed, the way turns are executed, the number of breaks, and phone use. The findings are cross-referenced with additional personal details, resulting in a custom-created policy for each individual customer.

Newer players to the market are taking things a step further, integrating phone sensors into their apps to detect unusual movement. They can recognize in real time if an insured driver was involved in an accident and contact him or her with instructions immediately.

No matter how innovative these insurance companies are, the main threat to an idyllic relationship with their clients is human nature. An entire subsector of insurtech is dedicated to preventing fraud. Instead of claim investigators, these companies use big data and AI. The simplest methods rely on scouring social networks for information, but smarter tools are constantly being developed. One of the most intriguing startups occupying this niche is Israel-based Click-Ins Ltd., founded in 2014 by a combined team of intelligence and insurance specialists, which uses methods from the intelligence industry to identify fraud. Already in use by several insurtech companies, Click-Ins' technology employs machine vision and deep learning to scan a vehicle and identify if parts were replaced so policyholders will not be able to hide accidents or inflate claims.

Fraud prevention has its place, but insurtech's holy grail is claim processing. The average time it takes to process a typical auto claim today is three weeks, when everyone understands it can be done in two hours, Sammy Bercovich, deputy CEO and chief information officer at Israel-based Hachshara Insurance Company Ltd., told Calcalist in a recent interview. Today the process requires a lot of human work hours and a lengthy back and forth between the mechanic, the appraiser, and the insurance company. But many of the claims are simple, routine, and in essence nearly identical to one another. In reality, there is no reason an algorithm could not be used to determine the payout based on previous cases, making payment a much quicker process.

Root, for example, promises that all it needs to process a payout is for a client to upload photographs of a car post-accident to its app. Even if there is some margin of error that could end up costing the company more, it is still cheaper than paying for the man hours needed to process the claims.

The revolution is wider than just auto insurance. American Ethos Life is building on the social justice discourse to offer accessible life insurance with almost no process of underwriting or medical examination. In the U.S., where half of the adult population has no life insurance, the service is revolutionary. Having answered a few personal questions on the company's website, clients can expect to receive a policy offer within minutes, and make a purchase on the spot. The small print? The client commits to the coverage period in advance, between 10 and 30 years.

Ethos Life already is valued at $500 million, and has been backed by celebrities like Jay-Z, Will Smith, Robert Downey Junior, and Kevin Durant, leading funds such as Sequoia Capital, and financial institutes like Goldman Sachs. Despite the enthusiasm, Ethos Life is an interesting case study: are simple technology and a low-cost model suited for any insurance product, even a complex one? Selling policies is one thing. The question is what will happen when people start filing claims.

There is one other general but fundamental question to be asked: can the new, innovative insurance companies survive as independent companies that provide a service, process claims, and make payouts? Or are these startups planning for a future where they are bought by existing insurance giants to be turned into digital insurance divisions, saving them the bother of developing those new tools themselves?