The Shekel Continues to Appreciate
Since the beginning of the year, Israel's currency roseby 6.6% compared to the U.S. dollar
The shekel continued to appreciate on Wednesday, with the U.S. dollar dropping 0.3% and its exchange rate set at NIS 3.49. The euro weakened by 0.5% and its exchange rate was set at NIS 3.87. On Tuesday, the dollar dropped by 0.6% compared to the Shekel while the euro fell by 1.1%.

The shekel's appreciation trend is not new, Alex Zabezhinsky, the head economist of Israel-based investment house Meitav Dash Investments Ltd., told Calcalist Tuesday. Since the beginning of the year, the shekel increased by 6.6% compared to the dollar, he said, adding that after a brief depreciating period the trend has resumed.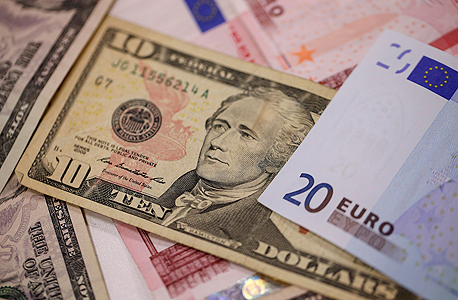 Exchange rates (illustration). Photo: Bloomberg

Current events such as Israel's budget problems could have weakened the shekel, but basic financial factors such as the surplus in the current accounts or investments in Israeli economy push the shekel towards a general trend of appreciation, he said. If one considers the past 12 months, the shekel is the strongest currency in the world, he added.

From a wider perspective, the shekel's strong standing is a distortion, Zabezhinsky said. While financial factors could explain a strong currency, the fact that it is the strongest currency in the world year after year is unjustified, he said.

As long as circumstances remain the same, there is no reason to think the trend will change, Zabezhinsky said. But if the situation changes, for example if the Bank of Israel decided to lower the interest rate or if the Israeli economy slows down, the shekel could experience an overcorrection.