Mind The Tech
Our Augmented Reality Saves Lives, Say Xtend Founders
Brothers Aviv and Matteo Shapira, co-founders of drone augmented reality startup XTend, spoke Monday at Calcalist's Mind the Tech conference in Tel Aviv
Brothers Aviv and Matteo Shapira, co-founders of drone augmented reality startup XTend Reality Expansion Ltd., say their technology is already saving lives. The two spoke Monday at Calcalist and Israel's Bank Leumi's Mind the Tech conference in Tel Aviv.
Tel Aviv-headquartered XTend develops a drone-based extended reality technology intended to combine virtual elements with real-life environments. Combining elements of cinematography, computer graphics, and computer vision, the technology enables users to gamify real-life activities, simulate the experience of pilots or race car drivers, or see themselves from above like a game character while moving about.
Xtend's technology, derived from the world of gaming, now helps train soldiers and first responders like police officers and firefighters, the Sapira brothers said. In the future, they said, the company is planning to apply the technology to more scenarios, including helping disabled and home-bound people experience the outdoors.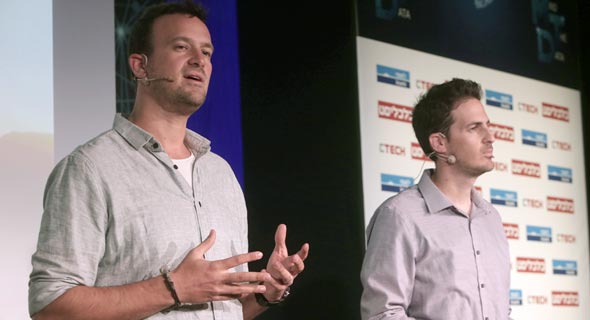 XTend co-founders Matteo (left) and Aviv Shapira. Photo: Zvika Tishler