Mind The Tech
Israel Is on the Way to Becoming an Outsourcing Country, Says AppsFlyer CEO
AppsFlyer CEO Oren Kaniel, Lightricks CEO Zeev Farbman, and Cybereason CEO Yossi Naar participated in a panel Monday during Calcalist's Mind the Tech conference in Tel Aviv
Recent government data showed that in 2017, 14,000 Israelis were employed as software developers in startups while 40,000 were employed by multinationals, Oren Kaniel, co-founder and CEO of marketing analytics company AppsFlyer Ltd., said Monday during a panel held at Calcalist and Israel's Bank Leumi's Mind the Tech conference in Tel Aviv. "When 100% of people will work for multinationals, we will become an outsourcing country. Obviously, there should be a mix, but Israel has no vision regarding the matter," he said.

One of the topics discussed during the panel was the way some founders and CEOs become synonymous with and almost more important than their companies, such as the case of WeWork and Adam Neumann.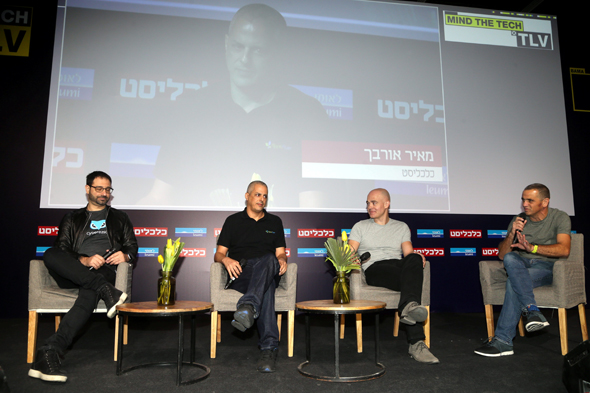 Yossi Naar (left), Oren Kaniel, Zeev Farbman, Calcalist reporter Meir Orbach. Photo: Yariv Katz

"The problem is not with the CEO being at the front of the company, but with the ethics," Kaniel said.

Zeev Farbman, the CEO of Jerusalem-based content creation app developer Lightricks Ltd., who also participated in the panel, said that while in some cases the CEO is a significant part of a company's marketing strategy, Lightricks was established by five people and therefore the CEO has less weight. "There are different ways to do business today, and different ways to act as company managers," he said.

CEO personality cults are a characteristic of specific companies, said Yossi Naar, co-founder of cybersecurity company Cybereason Inc. It is less commonplace in the cyber world, he said, where the emphasis is more on teamwork. As an Israeli company and a cyber company, many of Cybereason's employees came from the Israeli military, meaning they place more emphasis on working as a unit to achieve specific results and less on a model of a single leader, he said.