From Art to Ark: This Jerusalem Jeweler Treats Torah Arks Like Giant Jewels
Zehava Binyamin started making jewelry and small ornamental Judaica items as a side income. Now, she makes arks, scrolls, and pedestals for synagogues around the world
By the time she was 30, Zehava Binyamin had completed a degree in fine arts, gotten married, worked as a special education teacher, had children, got divorced, and won a contract to build her first Torah ark for a Jerusalem synagogue.

Binyamin, 59, started making jewelry and small ornamental Judaica items as a side income after her divorce. Then, she was approached by a building contractor who "fell in love" with a mezuzah she made and hired her for the Jerusalem gig, she said in a recent interview with Calcalist. According to Binyamin, when she hesitated about taking on such a project, the contractor told her to think of a Torah ark—an ornamental closet that houses Torah scrolls in a Jewish temple—as just one giant piece of jewelry. His only two demands were that every worshipper, even an 80-year-old man at the end of the Yom Kippur fast, could easily open the ark, and that it would be aesthetically pleasing in a way that would impress even a tourist that knows nothing of Judaism, she said.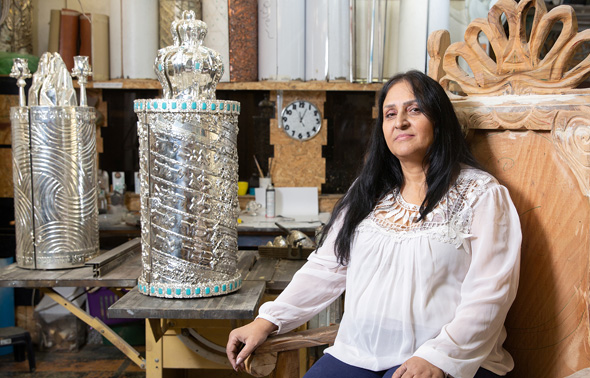 Zehava Binyamin. Photo: Alex Kolomoisky

Since then, Binyamin has made arks, scrolls, and pedestals for synagogues around the world. "Sometimes I get an order for just one element, but with most projects, I am responsible for the interior design of the whole space and work closely with the architect," she said.

Binyamin still makes Judaica items and some of them have come into rather famous hands. Last year, U.S. President Donald Trump received a Hanukkah menorah she made as a present from Hadassah Women's Zionist Organization of America. In 2007, former U.S. President George W. Bush also received a menorah from then-Israeli President Shimon Peres, to commemorate Israel's 60th anniversary. Back in the 1990s, Binyamin also made peace doves handed out by Israeli officials to world leaders, including Jordanian King Hussein bin Talal, Moroccan King Hassan II, and former U.S. President Bill Clinton.