List
Land of Tech and Honey: 5 Israeli Startups That Tackle the Dwindling Bee Population
From improving bee health through automating beehive care, to creating artificial pollination devices, below are five Israeli startups looking to solve the problem of the disappearing bee
Pollination, naturally performed by bees, is among the most vital processes supporting life on the planet. Of the world's flowering plant species, 87% depend on pollination for their very survival, according to data by The World Bee Project, a London-based community interest company dedicated to tracking the state of honey bees worldwide. But it is not just about the pretty flowers—77% of the global food supply is also dependent on bee pollination, according to the data.
This is all good and well but the problem is that due to increased use of pesticides, continuous decline in the availability of flowers, and other changes to the natural environment brought about by human intervention, the bee population has been consistently dropping.
From improving bee health, through automating beehive care, to creating artificial pollination devices, below are five Israeli startups looking to tackle the issue.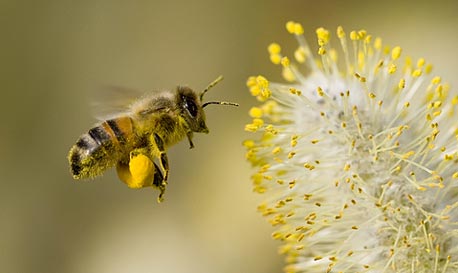 Bee pollination (illustration). Photo: Shutterstock

Edete

Founded: 2016

Founders: Eylam Ran, Keren Mimran

Based in Basmat Tab'un in northern Israel

Edete Precision Technologies for Agriculture develops and manufactures automated fruit orchard pollination systems. The company's devices automatically harvest flowers, separate the pollen, and store the germinable pollen to reduce dependency on insect pollination processes. During the blooming season, the stored pollen is loaded onto the company's artificial pollinator that disperses dry pollen on trees.

Unlike bees, the company's devices are unaffected by lighting conditions and temperature.

Beewise

Founded: 2018

Founders: Saar Safra, Hallel Schreier, Eliyah Radzyner, Yossi Sorin, Boaz Peterzil

Based in Klil in northern Israel

Beewise Technologies Ltd. develops autonomous beehives that can house up to 40 different bee colonies at a time, allowing beekeepers to remotely treat their hives and care for their bees. The autonomous beehives can control temperature and humidity, monitor pests within the hives and apply pesticides where needed in real-time. It can also harvest honey once it detects a frame is full, storing it in a 100-gallon container.

ToBe2

Founded: 2018

Founders: Avi Ben Shimon, Ofer Yogev

Based in Hod Hasharon in central Israel

ToBe2 develops a mite fumigation device for beehives. The device specifically targets the anti-varroa mite bee parasite and is designed to precisely deliver miticides into beehives. Governed by a remote control, the device can also deliver controlled bee healing compounds to hives.

Bumblebee

Founded: 2019

Founders: Avi Keren, Thai Elgrabli, Ido Senesh

Based in Tel Aviv

Bumblebee AI Ltd. develops an autonomous artificial intelligence-based pollination service. The company's technology identifies each tree's pollination needs, then mimicks the pollination process performed by bees to increase the crop's yield. The company's technology is intended for crops that require pollination, including avocado, kiwi, passionfruit, almonds, and blueberries.

The company recently began in-field trials on Hass avocado orchards and blueberry fields in Peru, according to a post on Bumblebee's LinkedIn page.

BeeHero

Founded: 2017

Founders: Itai Kanot, Michal Roizman, Omer Davidi, Yuval Regev

Based in Tel Aviv

BeeHero Ltd. develops technology that can predict beehive disorders and mitigate colony collapse. The company develops sensors that are installed inside the beehives to collect data and environmental information from within the hive. The data is then analyzed using the company's machine learning algorithms to predict beehive disorders.