European Union Innovation Arm EIT Launches Tel Aviv Hub
The activities of the hub will complement existing EIT community activities in Israel that are expected to scale in 2020 through support to innovators from the health, climate, food, and urban mobility sectors
The European Institute of Innovation and Technology (EIT), launched a new innovation hub inTel Aviv on Monday. The hub aims to create new opportunities for European and Israeli innovators and entrepreneurs. The activities of the hub will complement existing EIT community activities in Israel that are expected to scale in 2020 through support to innovators from the health, climate, food, and urban mobility sectors.
Over 200 stakeholders from both the Israeli and European ecosystems took part in the hub's opening event. EU Ambassador to Israel, Emanuele Giaufret, said at the event that "the launch of an EIT hub in Tel Aviv is yet another indication that European-Israeli cooperation in innovation is on the rise."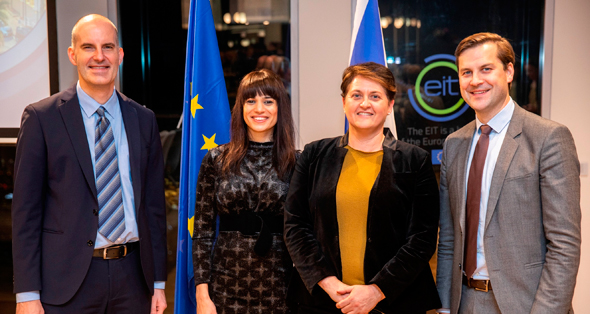 ISERD's Nili Shalev (second from right) with EIT's Martin Kern (left), Adi Barel, and Jan-Philipp Beck. Photo: Dana Tal-El
The Hub will expand the EIT Community's presence and activities in the country, especially in the area of business support and entrepreneurial training through the exchange of know-how, collaboration, and peer learning. The Hub will also serve as a platform for mutual learning between European and Israeli innovators, helping them turn ideas into new products and services.
"Israel has been associated with the European Framework Programmes for more than 23 years," Nili Shalev, the managing director of the Israel-Europe Research & Innovation Directorate, said. Launching the EIT hub in Israel marks a significant milestone and a great opportunity to strengthen the relationship between the research and innovation communities in Europe and Israel in a range of technological fields, she added.
EIT was formed in 2008 as part of Horizon 2020, the European Union's research and innovation program. With a proposed budget of 3 billion euros, EIT has more than 1,500 partners and 50 innovation hubs across Europe.