Cyber 2020
The Past Decade Was Like the Digital Wild West, Says Founder of Cyber Company Otorio
Israeli general Daniel Bren is the founder and CEO of Otorio. In his last military role he was chief cyber defense officer of the Israeli army
In the past decade, we entered a world in which the potential damages from cyber attacks are much more significant, said Brig. Gen. (res.) Daniel Bren. Bren is the co-founder and CEO of cybersecurity company Otorio Ltd. In his last military role, Bren served as chief cyber defense officer and chief information officer of the Israeli army. Bren spoke Monday at Calcalist's Cyber 2020 conference in Tel Aviv.

The past decade was the digital wild west, Bern said. There are countless new technologies allowing us to become more globally competitive and change the face of business, he said. New business models are forcing even the most conservative organizations to adopt the next technology and become hybrid, which makes them more exposed, he added.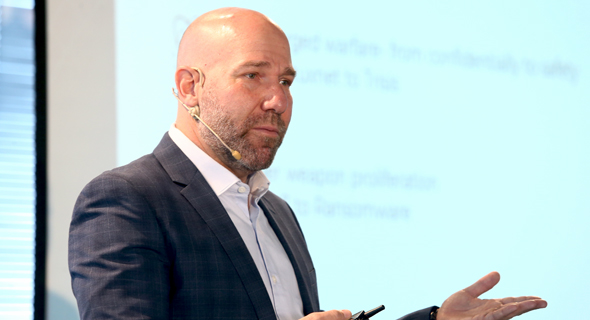 Otorio CEO Daniel Bern. Photo: Orel Cohen

In the future, Bern said, we will see a cyber economy that will encapsulate all other technologies. Anything connected to a network would become a potential target, he added.

Tel Aviv-headquartered Otorio develops a dedicated cyber platform for the manufacturing industry. In practice, it manages a factory's defense system from end to end, including risk assessment, strategy implementation, and risk management tools. The company was founded in 2018.