Interview
Spinning Wheel: Venture Funds Are Now Battling Over Startup Investments, Says Venture Capitalist
Gigi Levy-Weiss was known as Israel's busiest angel investor. Today, he invests through his venture firm, Silicon Valley-based NFX Guild, which relies on technology to appeal to entrepreneurs
Venture capitalist Gigi Levy-Weiss has been called many things, including the best-connected angel investor in Israeli tech and even the country's busiest investor. As an independent investor, in recent years, Levy-Weiss has backed companies such as web analytics company SimilarWeb Ltd. and online genealogy company MyHeritage Ltd. He also played a role in several local success stories, including the exits of companies such as gaming company Playtika, acquired by a Chinese private equity consortium for $4.4 billion in 2016, and social gaming company Plarium, bought by Australian gaming machine company Aristocrat Leisure for $500 million in 2017.

Today, Levy-Weiss is investing through his venture firm, Silicon Valley-based NFX Guild, which he manages together with James Currier, a four-time startup founder and investor, and Pete Flint, co-founder of real estate listing company Trulia Inc. and travel website lastminute.com. Through their individual activity as angel investors, the three helped launch companies with a combined current value of $10 billion, Courier told Calcalist recently as the three set down for an interview.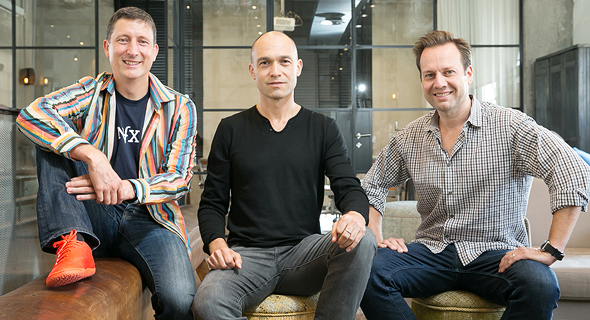 James Currier, Pete Flint, Gigi Levy-Weiss. Photo: Orel Cohen

According to Levy-Weiss, growing competition in venture capital has changed the playing field. In the past, startups chased investors; now, angels must come up with new ways to appeal to entrepreneurs. To accomplish that, NFX has implemented a customer relationship management (CRM) system designed to streamline communications between the investors and their portfolio companies. "We believe that data and software can change venture capital, same as they changed stock market investment, and same as they changed other industries," Courier said. "There is a lot in our industry that is blurry or concealed, and we want to change that," he said.

NFX also offers its entrepreneurs an informational platform containing data on thousands of global investors. According to Courier, more than 85,000 investors have already created a profile on the platform. Traditionally, startups would have created a profile in the hope of catching the attention of investors, Courier said. Now, it is the other way around. The proliferation of capital has made leading venture firms realize they need to offer something more than money.

"It is harder today to breakthrough with a new fund," Levy-Weiss said. "Once in a while, there is one company everyone wants to back or a fund everyone wants to be backed by, but overall, the market is a lot more balanced," he said. "Funds today must show entrepreneurs the value they can bring. Many times we send our own portfolio companies to new entrepreneurs so that they can give us good references."

According to Levy-Weiss, data and software are the edge that funds like his can use to propel them into the next decade. And the gamble has already begun to bear fruit, he said. Earlier in its path, NFX was ranked 44th among global venture capital firms in terms of web traffic. Last year, it came in 11th, and this year, 4th, following Andreessen Horowitz, First Round Capital, and Sequoia Capital.

NFX's first fund closed with commitments of $175 million in October 2017. Its second fund raised $275 million in commitments, closing in May. NFX invests primarily in seed companies across many industries—including fintech, bioinformatics, real estate-related tech, games, and more—focusing on Israeli and Silicon Valley startups.

Seed investments are considered riskier, but successful investments guarantee much higher returns. "Seed stage is critical for a company," Flint said. "You are trying to create a match between a product and a market, recruit your first team, and put together a marketing strategy. But it is also the time when you work with the least experienced investors. Companies need a mature, cohesive fund to invest early on, and that is what we created, there was a need," Flint said.

To try and improve its odds, NFX focuses on companies with a network effect, meaning companies with a product that sees an increase in value as more people use it.

In seed investment, the success rate is less than 10%, Levy-Weiss said. "The question is, can you spot the successes, and will they be big enough to generate higher returns? When you become good at selecting people, advising them, and connecting them to other sources of support, you can increase the chances beyond the dry statistics. By focusing on network effect companies, NFX can ensure that the successful companies get to become bigger and more valuable. The focus on network effect companies does not change the success ratio, but it changes the bottom line."

So what is the secret of an angel's success? According to Levy-Weiss, it is not being 100% right, but rather increasing the chances of getting it right. "Some of it is IQ, and some is EQ, or emotional intelligence," he said. "You learn with time. For example, we know that a company with a single founder is twice as likely to fail as a company with two or three founders, and that more than four founders send the company's chances down again. It doesn't mean we won't invest in a single founder as a rule, but we do try to focus on investments with fewer chances to fail. I know that consumer hardware is an area where many have failed, so I avoid it."