Ramallah Startup Uses Social Media to Help People in Conflict Areas Assess Risks
RedCrow utilizes natural language processing and AI to analyze data from social media posts and predict security threats and potential shifts in a region's level of stability and safety
Living and operating a business in chaotic environments, such as conflict torn countries can be extremely difficult. Life conditions in these areas are volatile and can be hard to predict or unexpected at times.This is where Ramallah-headquartered threat assessment startup RedCrow Inc. comes in, attempting to help people living in such environments to avoid potential threats and financial damages.

Founded in 2014, RedCrow uses artificial intelligence and natural language processing technologies to analyze social media discourse to detect security threats and forecast potential shifts in a region's level of stability and safety, according to CEO and co-founder, Hussein Nasser-Eddin (no relation to the writer of this article).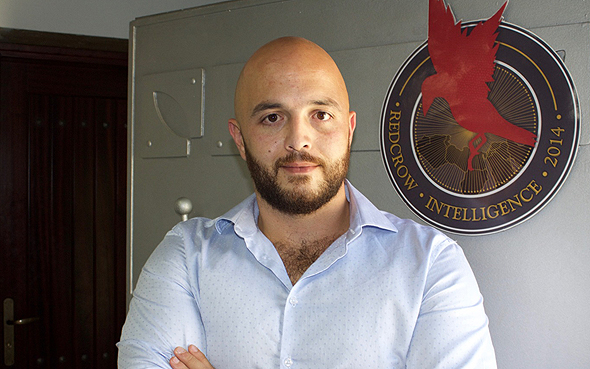 RedCrow co-founder Hussein Nasser Eddin. Photo: RedCrow

RedCrow's technology is capable of analyzing texts in English,Hebrew, and Arabic. "Using natural language processing, the technology is able to understand different Arabic dialects and generate an overwhelming amount of information from social media platforms," Nasser-Eddin explained.

The company has additional offices in Abu Dhabi, and its services are available in conflict areas including Syria, Yemen, Egypt, Israel, and the Palestinian Territories.

During the Al-Aqsa Intifada in 2000-2005, there was so much chaos that just moving around in the West Bank was difficult, and people could not even make simple decisions, not to mention things like starting a business, Nasser-Eddin said, explaining his motivation in starting the company. Everyone had to start thinking like a political analyst and recognize trends within the chaos just to get by in life, he said. A few years later this chaotic reality was reflected all over the Middle East, including Egypt and Tunisia, Nasser-Eddin said, so he saw an opportunity to step in.

RedCrow's technology not only looks into the content of a certain post but also examines who is behind it, attributing more credibility to officials, journalists, or otherwise well known individuals, than it does to an anonymous user, Nasser-Eddin explained, If the post is by a private individual, RedCrow would need more to rely on the information they provide, he said. "We would want more people to share that certain piece of information or react to it in an otherwise affirming way over a short period of time in order for the technology to confirm it as a threat," he continued.

Most of RedCrow's customers are currently intergovernmental organizations, non-governmental organizations, and humanitarian and diplomatic delegations, according to Nasser Eddin. The company is now looking into expanding to service the oil and gas sectors, he said.