A Keen Hand for Detail: Former Architect Builds Scaled Models of Weapons, Historical Landmarks
Gadi Ma-Tov left a career as an architect to return to a childhood passion that began with his first set of Legos
It started with legos, professional miniaturist Gadi Ma-Tov, 60, said about his life-long passion for creating tiny, elaborate models. In a recent interview with Calcalist, Ma-Tov recalled how, at the age of 30, he left a budding career as an architect and a good job at a leading Israeli architecture firm to return to his childhood love: building miniature models. His friends and colleagues did not react well when he decided to throw away five years of college education, he said, but for him, it is a labor of love.

As a hyperactive kid who loved war games, Ma-Tov created combat scenes, and by the age of eight, graduated to building accurate models of tanks and aircraft out of plastic. A professional highschool education that included skills like turning and welding came in handy when he was a first-year architecture student, when an established architect commissioned a hand-built model that took him a year to complete.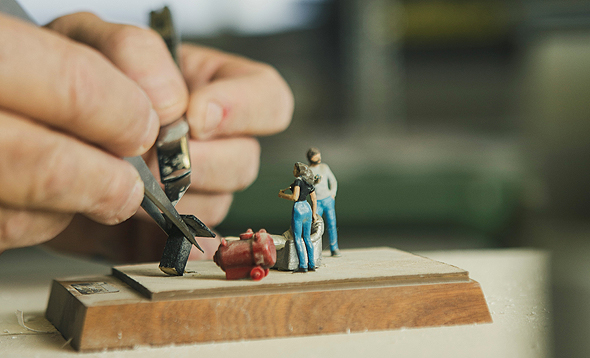 Gadi Ma-Tov's miniature model. Photo: Tommy Harpaz

Today, Ma-Tov runs a modeling business that does most of its work—models built from wood, plastic, and rarely, glass—for the Israel Defense Forces (IDF) and Israel's various defense companies. One of Ma-Tov's first employees was a former soviet tank model builder. Together, they worked on their first IDF commission, building small-size models of various vehicles.

Most of the models he creates for the military are used in battle exercises, Ma-Tov said. "I have dozens of suitcases of tiny combat vehicles, and at IDF headquarters they open them, spread them out on a relief—of the Golan Heights, for example—and start to game."

Models are the most convenient way to practice multi-force exercises and enable both commanders and foot soldiers to see the full picture, Ma-Tov said. They are communication tools, whether they help a contractor show a client how their house will look, or a product developer demonstrate a new rifle, he said.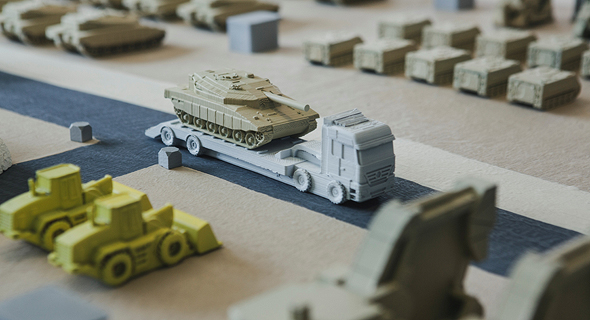 Gadi Ma-Tov's miniature model. Photo: Tommy Harpaz

Many of his models serve Israeli defense companies that market their weapons to foreign buyers. He made such models of well-known Israeli defense systems such as the Arrow (Hetz), an anti-ballistic missile family developed by Israel Aerospace Industries Ltd. (IAI), or the Iron Dome.

Ma-Tov also creates models for civilian projects. He makes dioramas for museums, which is not a profession taught in Israel. "I went to museums in England," he revealed. "I'd crawl under them and when the guard was not looking, I'd scrape the figures to learn what they were made of."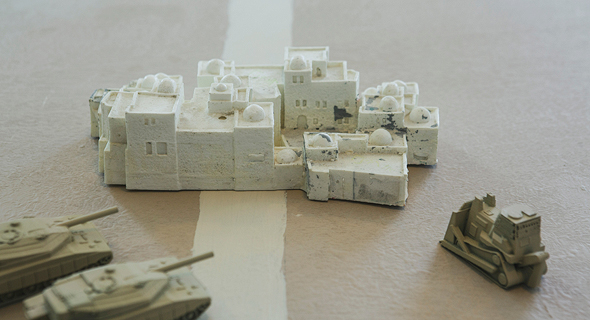 Gadi Ma-Tov's miniature model. Photo: Tommy Harpaz

Two decades ago, he also started making specialized models for people with disabilities. "We developed a model that simulates how an oil mill works for blind tourists. You can explain it for hours, or you can give a blind person a miniature model we made that has some play elements within, and they'll immediately understand how the mechanism works." Another such model they made is of Tel Megiddo, a historical site in northern Israel composed of several historical layers, the earliest dated to the Bronze Age. "We made a model of Tel Megiddo that's built like a puzzle, each historical layer is a different part, so a blind person can assemble each layer one on top of the other."

The level of detail in the models changes according to the demands of the client. In the Joe Alon Center, a museum in the northern Negev that is dedicated mostly to Bedouin culture, Ma-Tov and his team spent days adjusting a model of a Bedouin tent to reflect a specific season and time of day, down to the way the light hits the fabric of the tent.