Over 25% of Israeli Homes Are Smart Homes, Report Says
Israel's largest telecom Bezeq released its annual internet usage report on Tuesday
More than a quarter of Israeli homes, 27%, are smart homes, according to the 2019 annual report on internet usage in Israel released on Tuesday by Israel's largest telecom, Bezeq. The report is based on a survey conducted on a representative sample of 1,400 residents of Israel aged 8 and up.

According to the report, 6.6 million people, about 72.5% of Israel's population, have an internet connection.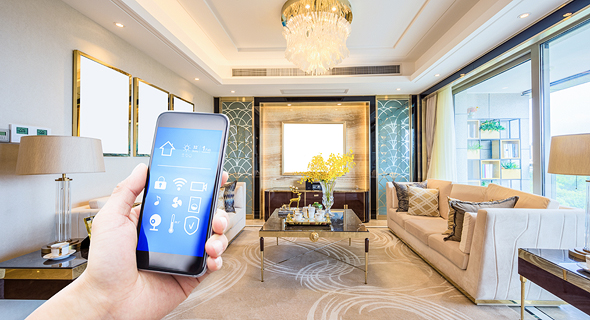 Smart home (illustration). Photo: Shutterstock

The most popular mobile apps in Israel in 2019 were messaging app WhatsApp, used by 91% of those surveyed, Facebook with 81%, and Instagram with 52%, the report showed. Encrypted instant messaging app Telegram followed and was used by 23% of those surveyed, compared to just 12% in 2018. Short video-sharing app TikTok, associated mostly with children, was used by 6% of those surveyed, compared with 4% in 2018.

The sharenting trend has not skipped Israel, with 52% of parents surveyed stating they believe they get more likes when they upload a picture of their child. According to the survey, the average age for getting one's first smartphone is 10 and 85% of parents try to limit their children's screen time to up to three hours a day. Of the parents surveyed, 75% admitted they snooped through their children's WhatsApp conversations.

Nearly half of Israeli teens and 28% of Israelis of all ages watch Netflix, according to the survey. Israelis also enjoy multitasking during their leisure time, using their mobile phones to access the internet while they are watching television. The phenomenon is most common in teens, diminishing with age—75% of those aged 13-17 reported doing so, compared to just 45% of people over 55.

E-commerce is on a continuous rise: 82% of Israelis reported they shopped online in 2019. Of those surveyed, 45% said they bought most of their clothes and shoes online, compared to 24% in 2017. Nearly a third of those surveyed said they bought most of their groceries online, compared to 18% in 2017.

Shared economy mobility services are most popular in Tel Aviv, with 30% of residents reporting they used Via Transportation Inc.'s ridesharing service Bubble, shared bicycle and electric-scooter services or the city's shared car service Auto-Tel in 2019, compared to just 16% in the rest of the country.