Israel's First Digital Bank Set to Start Operations in Mid-2021
The bank's controlling shareholders are Check Point co-founder Marius Nacht and Mobileye co-founder and CEO Amnon Shashua
The digital banking venture of Marius Nacht, co-founder of Check Point Software Technologies Ltd., and Amnon Shashua, co-founder and CEO of automotive chipmaker Mobileye, is set to start operations in the second half of 2021, according to a Sunday announcement. Over the weekend, the two informed the Israeli Ministry of Finance and the Bank of Israel that they have finalized their contract with IT company TCS, a member of the TATA Group. TCS will supply the technological infrastructure for the digital bank.

Nacht and Shashua invested a joint $60 million in the bank as its controlling shareholders. The rest of the bank's target equity of $120 million, as was approved by the Bank of Israel, will be raised from private investors in Israel and abroad. The bank is currently staffing its management team and intends to hire dozens of employees by the end of the year.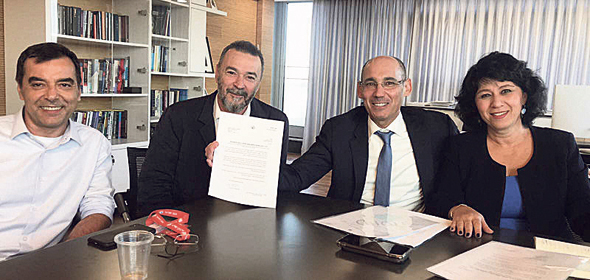 Amnon Shashua (left), Marius Nacht, Amir Yaron, Hedva Ber. Photo: Bank of Israel spokesperson

Gal Bar Dea, one of the founders of Bank Leumi's digital banking arm Pepper, was appointed CEO of the digital bank. Shouky Oren, who served as the accountant general of the Israeli Ministry of Finance between 2007 and 2011 and was previously CEO of Bank Leumi Switzerland, was appointed chairman. Netta Avrahamov Bitan, formerly chief risk officer and chief accountant at the Union Bank of Israel Ltd., will serve as vice president of finance. Arik Chicotay, one of the founders of Pepper and formerly a vice president of banking and service at Leumi, was appointed vice president of banking. He is set to start in April following a cooling-off period. Roy Katzir, formerly head of sales at Bank Hapoalim's retail division, was appointed vice president of marketing and sales and business development officer. Dana Matalon Goren, the new bank's vice president of human resources, served as a member of management at various tech companies, including online gambling company 888 Holdings PLC. Gil Rashman, who formerly headed Pepper's technology operations, was appointed vice president of IT.