Coronavirus
As a Preemptive Measure, Israel Authorizes Forced Quarantine of Potential Coronavirus Carriers
No confirmed cases of the pandemic have been recorded in Israel; the number of fatalities in China has now risen to 106
Israel's Minister of Health Yaakov Litzman signed an order to extend the authority of the ministry in case the Wuhan coronavirus makes its way to Israel, the ministry announced Monday. The extension gives the ministry legal authority to restrict certain rights, such as the right to travel to specific locations in China—or enforce solitary confinement during hospitalization.

The ministry has emphasized that the order itself is not an indication of any emergency situation, but rather a preemptive effort to prepare for every possible scenario.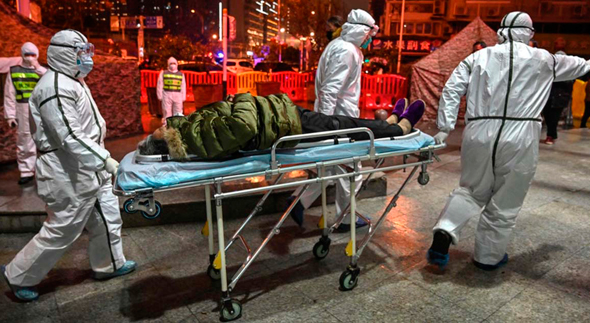 The coronavirus, China. Photo: AFP

The coronavirus came to public awareness on December 31, 2019, when China informed the World Health Organization (WHO) it has detected several cases of pneumonia in Wuhan, a port city in the Hubei province with a population of some 11 million. Several of those who fell ill worked at the city's Huanan Seafood Wholesale Market, which was shut down the following day. The new virus was originally feared to be a recurrence of the SARS coronavirus, which killed over 700 people in 2003, a possibility that was ruled out on January 5. On January 7, WHO experts identified it as another member of the coronavirus family, a group of respiratory infections. Human-to-human transmission was confirmed on January 20. China responded by quarantining the major cities in Hubei, putting some 56 million people under lockdown, though some experts have doubted the effectiveness of this measure. Other countries have implemented security measures such as screening for symptoms at airports and restricting air travel to China.

The first death, a 61-year-old man, was reported on January 11, and the first confirmed case outside of China was reported on January 13 in Thailand. Several confirmed cases have since been reported in Hong Kong, Taiwan, Japan, Singapore, South Korea, Malaysia, the U.S., Australia, France, Canada, Vietnam, Nepal, Cambodia, and Germany. No deaths have been recorded outside of China, but per China's National Health Commission's Tuesday announcement, the number of dead in the nation has now risen to 106 people, up from 81 Monday. The number of confirmed cases in the country jumped from 2,835 to 4,515 within the same 24 hours.

Several days ago, two Israelis who returned from China were put in quarantine for displaying symptoms that could potentially indicate the virus, but test results have since ruled this possibility out. As of now, there are no confirmed cases of coronavirus in Israel, per Litzman's Monday announcement. The order adds the virus to Israel's list of infectious diseases, following WHO recommendations, he said. Since the virus appeared, the ministry has been holding daily meetings and keeping in daily touch with the WHO.