Leading Global Investors to Scout for Israeli Technologies at the Axis Tel Aviv Conference
Taking place for the sixth consecutive year, the conference will offer international investors a platform in which they can scout for investments in Israeli startups and entrepreneurs, as well as local talent
Dozens of investors and top executives from funds and leading corporations from around the world will gather in Israel for the Axis Tel Aviv conference, scheduled for February 11. Taking place for the sixth consecutive year, the conference will offer international investors a platform in which they can scout for local talent and investment opportunities in Israeli startups and entrepreneurs. Among the partners organizing this year's event that will take place at the Peres Center for Peace and Innovation, is the Israel branch of Global Corporate Venturing, an organization dedicated to the corporate venture capital industry. Axis Tel Aviv is an official event partner of the Global Investor Summit by equity crowdfunding company OurCrowd Management Ltd.

Among the speakers to participate in conference's debates and panels will be representatives from large international organizations searching for investments in Israel for the first time. In the field of mobility, for example, representatives from Fluxunit, the venture capital arm of German lighting conglomerate OSRAM Gmbh, will attend the event. Fluxunit makes individual investments of up to $10 million in B2B companies in fields such as autonomous vehicles, robotics, smart farming, smart buildings, and digital health.

Scail Capital, a central European fund focused on retail and consumer goods, will be searching for investments in relevant startups that use digitization, demographic changes, and new technologies to disrupt the retail industry. Also in attendance will be Paris-headquartered firm IDInvest, which invested in 3,500 small and medium-sized ventures since its foundation in 1997; and Luxembourg-based Expon Capital, which focuses on startups that aim to benefit humanity, in fields such as disaster relief, weather, energy, education, government, environment, and health.

Also looking to invest in Israel for the first time will be American-Canadian fund Relay Ventures, which orchestrated over 100 successful exits worldwide since its foundation in 1996. Since 2008, the fund is focused on mobile, sensor, and cloud technologies and normally invests in series A rounds.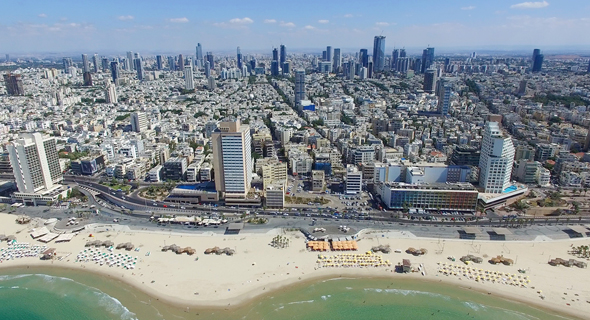 Tel Aviv Skyline. Photo: Shutterstock

Two deep-tech-focused funds will also attend: Vickers Venture Partners, one of the world's best performing funds with over $1 billion under management, which is focused exclusively on growth stage deep-tech companies; and 8AV, a relatively young British-American firm with $180 million under management, that is backed by German insurance company Allianz SE. 8AV invests in deep tech companies of all industries.

The conference will include presentations from Israeli startups in the fields of mobility, media and telecommunications, fintech, insurtech, and commerce. Among the subjects to be discussed are corporate models for engaging with startups, VC and CVC, home energy networks (HEN), corporate venturing and mobility, and Innovation for a better world.