Monday.com Launches Work Operating System
The company's new operating system will include a marketplace enabling developers to create and package apps, custom widgets, and workflows for use by their own organization or for commercial use by other organizations
Tel Aviv-based team management and productivity startup Monday.com Labs Ltd. has launched monday 2.0, a work operating system (work OS) that enables companies to build custom workflow apps in a matter of minutes, the company announced Tuesday.

Monday.com develops and markets a team management platform for organizations and businesses such as academic institutions, manufacturing companies, and the hospitality industry. Customers can use Monday.com's platform to manage and track projects, manufacturing lines, and schedules. Approximately 100,000 organizations use the company's platform, according to company statements, including McDonald's, streaming company Hulu LLC, and Danish brewery the Carlsberg Group.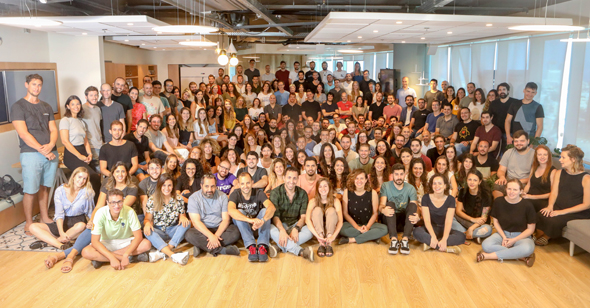 Monday.com. Photo: Shlomi Yosef

Monday.com's new operating system will include a marketplace, enabling developers to create and package apps, custom widgets, and workflows for use by their own organization or for commercial use by other organizations. Monday.com's marketplace will also offer technology and services by other companies. One of the first services the company intends to offer is by Israeli conversation analytics startup Gong.io Ltd. The company utilizes speech recognition technology to analyze recorded phone calls and provide sales representatives with real-time insights into their interactions with customers.

Also on Tuesday, Monday.com announced it had reached $120 million in annual recurring revenues (ARR) in 2019, a sharp rise from its $50 million in ARR in 2018. The company said it expects to surpass $250 million in ARR in 2020.

has raised $234 million to date from investors including Sapphire Ventures, Hamilton Lane, Ion Asset Management, Vintage Investment Partners, Insight Partners, and Entrée Capital.