Coronavirus
Coronavirus Scare Prompts Israel to Create a Database on People Entering and Exiting the Country
The establishment of the database is being rushed after authorities ran into trouble collecting data on Chinese citizens expected to enter the country
At its upcoming meeting Sunday, the Israeli government is expected to advance the establishment of a database that will include sensitive information about all people entering and exiting the country, according to official documents reviewed by Calcalist. The government is expected to approve the establishment of an inter-ministerial team headed by the Ministry of Justice, which will work to create the database under the Israel Tax Authority. The team will include representatives from the tax authority, the Administration of Border Crossings, Population, and Immigration, Israel Police, the Israel Security Agency (Shin Bet), the National Security Council, the Prime Minister's Office, and the Ministries of Interior, Transportation, Foreign Relations, and Defense.

Called the Flight Data Center, the database will include information collected from airline companies, such as name, identity number, date of birth, and nationality, and also data such as addresses, phone numbers, credit card numbers, and planned travel routes. The database is intended to help Israel fight terrorism, cross-border crimes, illegal immigration, and also public dangers such as epidemics.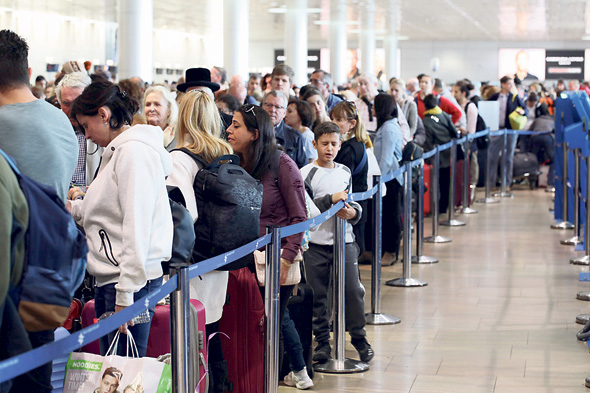 Travelers at Israel's Ben Gurion Airport. Photo: Aner Green

The documents reviewed by Calcalist show that the database was planned to be established five years ago based on a report compiled at the time, but the current risks caused by the coronavirus and the expected entrance of Chinese citizens to Israel led Prime Minister Benjamin Netanyahu to rush its establishment.

The inter-ministerial team is expected to hand in its work within nine months, creating a framework that will outline how the information could be used.