OurCrowd Will Re-Focus on Early-Stage Investments, Says CEO Jon Medved
OurCrowd will host its sixth annual global investor summit next week on February 13, in Jerusalem
OurCrowd will be focusing on early-stage investments in 2020 because this time, the company will try to look 10 years ahead, says Jerusalem-based equity crowdfunding company OurCrowd Ltd. CEO Jon Medved. According to Medved, looking a decade ahead regarding future technologies and companies will enable us to solve the most critical issues, and should become a priority for the whole ecosystem in the coming years.

OurCrowd will host its sixth annual global investor summit next week on February 13, in Jerusalem, in which Medved will reveal the 10 technology trends OurCrowd intends to focus on in the coming years. "Between 2009 and 2019, we saw that tech investments multiplied 10 times, and also the total amount of money that came from exits jumped by a similar rate," said Medved. "Venture investing is to look 10 years ahead because tech solutions in fields like AI, agro-tech, mobility, or health-tech do not come up overnight."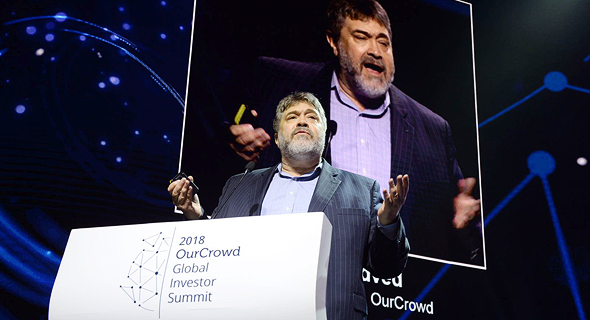 Jon Medved. Photo: OurCrowd

The OurCrowd global investor summit will feature a full day of keynote speeches, investor spotlights, and specialist panels with some of the world's leading business executives, investors, and entrepreneurs. More than 20,000 people have registered to participate in the summit. Investors, entrepreneurs, corporate executives, and venture capitalists have registered from more than 180 countries, many of them visiting Israel for the first time.

CTech by Calcalist—an official media sponsor of the event—will cover the summit and will run a special video studio on the day of the conference where CTech reporters will talk to senior executives invited to the event.

"Over 200 different speakers will address three plenary sessions, 33 concurrent breakout sessions, as well as over 100 interactive technology booths. The biggest problem attendees will have is how to choose what to attend and what to miss", said Medved.

The theme for the 2020 OurCrowd global investor summit is "Startups: Going Beyond," reflecting the breathtaking potential of startup technologies to push the limits of what's possible. Some highlights include: "Feeding the Planet Without Killing It," exploring breakthrough advances in AgTech and FoodTech. "Power to the People: The FinTech Revolution," focusing on startups providing unprecedented tools for personal financial empowerment. "Whose Face Is It Anyway? Can Cybersecurity Tech Protect Our Privacy," examining how to keep your information secure in an age in which everything is online.

Among the key speakers at the Summit: Jason Greenblatt, former assistant to the President of the United States & Special Representative for International Negotiations, Saul Singer, author, 'Start-Up Nation', Ronald Kruszewski, chairman and CEO, Stifel Financial Corporation, Jun Sawada, President and CEO, NTT Holdings, Dr. Dave Mosley, CEO, Seagate Technology, Ruth Arnon, immunology researcher, former President of the Israel Academy of Sciences, CEO of the Israel Innovation Authority Aharon Aharon, Nobel Laureate in medicine Dr. Ferid Murad, Board Member SaNOtize, Aleph co-founder and equal partner Michael Eisenberg, chairman of Cirque du Soleil Mitch Garber, Board Member of FC Barcelona Marta Plana, Managing Director at Toyota AI Ventures Jim Adler, chief transformation officer Real Madrid CF Michael Sutherland, cybersecurity security analyst Keren Elazari, author and researcher.

With $1.4 billion of committed funding, and investments in 200 portfolio companies and 20 venture funds, OurCrowd offers access to its membership of 41,000 individual accredited and institutional investors, family offices, and venture capital partners from over 183 countries to invest alongside, at the same terms. Since its founding in 2013, OurCrowd portfolio companies have been acquired by some of the most prestigious brands in the world, including Uber, Canon, Oracle, Nike, and Intel.