Interview
An Alibaba Early Backer Looks to Israel
GGV Capital manages some $6 billion in assets across seven funds, counting Airbnb, Slack, Grab, and Houzz among its portfolio companies. To entice Israeli startups to hop on its bandwagon, the fund has sent over two of its leading executives
Multinational venture capital fund GGV Capital is one of the world's most active funds in Silicon Valley and the Asia-Pacific. To date, the firm, which manages some $6 billion in assets across seven funds, has backed 61 unicorns, among them Airbnb, ridesharing company Grab Holdings Inc., and the $26 billion fintech giant Square Inc. It was an early backer of Chinese e-commerce giant Alibaba. With headquarters in Singapore and a large office in California's Palo Alto, GGV has now decided to turn its attention to Israel, where it has made two investments to date.

In late January, GGV managing partner Glenn Solomon and vice president Oren Yunger landed in Israel to convince Israeli entrepreneurs, already flush with foreign money, to hop on their bandwagon.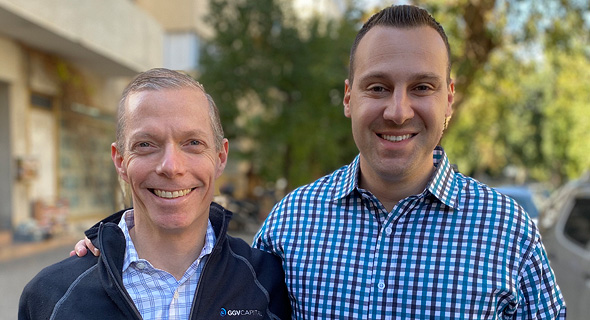 GGV's Glenn Solomon (left) and Oren Yunger. Photo: PR

There are some 35 unicorn companies in Israel, and around half of them were launched in the past 12 months, Solomon told Calcalist in an interview, adding that GGV estimates that the local market is accelerating its pace. "We think that there is a specific Israeli reason for that—our view of the market is that there are more and more entrepreneurs now who are second and third-time entrepreneurs." The existence of experienced entrepreneurs, combined with the fact that more and more unicorns are emerging out of Israel, makes founders less likely to sell to the first interested buyer and more likely to attempt to build a bigger company, he said.

Another reason why GGV thinks this is a good time to deepen its relationship with the Israeli tech industry is that the global tech market is becoming less conscious of geography, Solomon said. That means the markets of Israeli companies are growing fast, which is something the fund thinks it can help with, he said.

GGV raised around $6 billion since its establishment in 2000, with its latest, seventh fund amassing $1.2 billion in assets under management. The firm, which has 82 employees, invests 75% of its capital in seed, A, and B stage companies, Solomon said. In at least 10 of its portfolio companies, GGV has already invested between $50 million and $100 million.

GGV's operations differ according to the market it operates in, Solomon said. While in Asia, it makes mainly consumer-focused investments, in the rest of the world, it focuses mostly on tech investments. The fund is especially interested in East Asia, where it invests primarily in developing economies and sees many opportunities in e-commerce, fintech, and travel, he added. "Some 750 million new users will become connected there in the next few years."

In Israel, however, GGV is looking mainly for technological innovation, according to Solomon. They are especially interested in companies developing enterprise consumer and edge technologies, and also startups in the robotics and cyber sectors.

One of the firm's two Israeli portfolio companies is cybersecurity startup Vdoo Connected Trust Ltd., founded by the entrepreneurs behind cybersecurity company Cyvera Ltd. "In Israel, our strategy—what we did in both cases—is to invest alongside excellent local venture capital firms. For now, we are very dedicated to the market," Solomon said. Yunger, especially, has local connections. He was born in Israel, and plans to visit a lot more, Solomon added.

"In the last seven months, we made two investments for a total of $25 million," Yunger said. "There is no reason why that pace won't continue. If we sit down again in a year, I expect we will have invested around $100 million into the country, and have somewhere between five and eight portfolio companies. Our expectation, from what we have seen so far, is that the opportunity here is so vast that this is not a 'one year and we are out' kind of situation. We think that the dynamics at play here allow us to really invest heavily in the country."

In the past, the main advantage venture capital funds offered was a financial back, and perhaps some advice in their capacity as board members. In recent years, firms such as Andreessen Horowitz changed the model, and funds now feel compelled to create a support network for their portfolio companies. GGV also has such a network.

"We have people on staff whose sole job is to help our portfolio companies with recruitment and talent development, which is a big issue for all the companies we invest in," Solomon said. "Business development, getting the first customers, building relationships with partners. Another thing early stage companies can struggle with—and certainly Israeli companies when they come to the U.S. and Europe— is marketing, and we help with that." The fund also offers its entrepreneurs a leadership training workshop called Founders Leaders, which it plans to launch in Israel in April.

"How to expand to new markets, how to attract talent, how to differentiate yourself and position yourself for success—that is something that we will bring to the market," Yunger said.