Election
Netanyahu Rival Vows to Stop Arms Sales to Myanmar, South Sudan
Prime Minister hopeful Benny Gantz of centrist party Blue and White, a former Israeli military Chief of Staff, stated Monday he will work to halt Israeli arms exports to regimes committing genocide and war crimes
Benjamin Netanyahu's main rival for the prime minister's chair, former Israeli military Chief of Staff Benny Gantz of centrist party Blue and White, stated Monday he will work to halt Israeli arms exports to regimes committing genocide and war crimes. Gantz was answering a question posed by a Calcalist reporter about Israeli arms sales to Myanmar and South Sudan at a Tel Aviv International Salon event, held Monday in Tel Aviv.

During Gantz's on-stage discussion with Blue and White co-founder, former Finance Minister Yair Lapid, at the event, the two were interrupted by a protester opposing Israeli arms sales to oppressive regimes.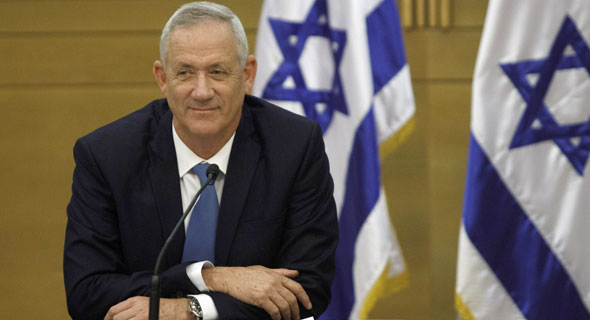 Benny Gantz. Photo: Bloomberg

Israeli military censor and gag orders on trade deals with certain countries have made it difficult to gain supporters for the cause and increase public awareness and discourse of the issue.

Following arms embargoes by the U.S. and the European Union, Israel has continued to sell weapons to regimes such as South Sudan and Myanmar. Israel sold $11 million worth of weapons to Myanmar in 2017. Formerly referred to as Burma, Myanmar has been condemned by the United Nations for carrying out genocide of the Rohingya, a Muslim minority group in the country, according to the Stockholm International Peace Research Institute (SIPRI).

Only about 4% of Israel's income from its arms exports originates from weapons sold to countries in Africa and to rogue regimes, according to Eitay Mack, a human rights lawyer working to stop Israeli military aid to regimes that commit war crimes and crimes against humanity. Low-tech machine guns and other elementary weapons Israel sells to third-world dictatorships are not a prize deal in terms of profit, Mack said in a 2019 interview with Calcalist's Hebrew-language podcast HaKmusa, hosted by Uri Pasovsky and Keren Tsuriel.

In 2016, Israeli lawmaker Tamar Zandberg, then leader of left-wing party Meretz, drafted a joint bill with Yehuda Glick, a member of the ruling right-wing Likud party, in an attempt to halt these sales. Despite receiving wide coalitional support, the bill "was not supported by a ministerial committee and did not go through to a preliminary reading," according to a Meretz representative who responded to Calcalist's request for comment.