Dark Web
Pedophilia and Drug Transactions in the Dark Web Are Declining, Says Cyber Law Expert
Nimrod Kozlovski, partner at Israel-based law firm Herzog Fox Neeman and lecturer at Tel Aviv University, spoke at the Dark-Web Economy conference held Wednesday in Tel Aviv by Herzog Fox & Neeman and Herzog Strategic, in partnership with CTech by Calcalist
Child pornography and drug transactions on the dark web are declining but overall criminal activity is on the rise, according to Nimrod Kozlovski, partner at Israel-based law firm Herzog Fox Neeman and lecturer at Tel Aviv University. Kozlovski spoke at the Dark-Web Economy conference held Wednesday in Tel Aviv by Herzog Fox & Neeman and Herzog Strategic, in partnership with CTech by Calcalist.

The biggest trend currently on the darknet is related to the selling of stolen information, such as credit card information and medical records, Kozlovski explained. "Companies are seeing an increasing volume of criminal activity associated with the dark web," he said, adding that "now we see that in most incidents of data exploitation or data theft there is a very short time period between when companies realize their data was leaked and when they realize their data is being sold online."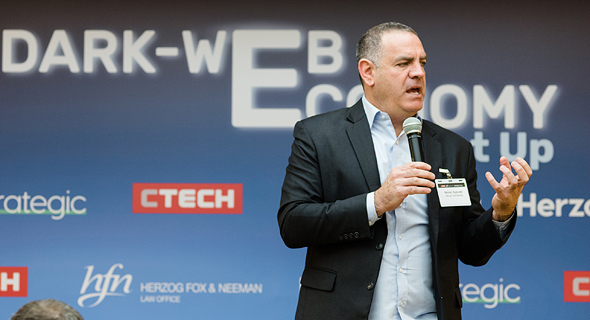 Nimrod Kozlovski. Photo: Nati Hadad

Even after contacting law enforcement officials and security teams, it is very unlikely that the hackers will be tracked down, or that businesses will be able to do anything to mitigate the situation besides pay the ransom, he said. Only when authorities are able to track down where the money was transferred to are they able to actually have anything to work with, Kozlovski added.

Victims of ransomware are often given 72 hours to buy back their information before it gets put up for auction, Kozlovski said.

"There are very few conversations on the dark web that we can get any actionable intelligence from," Kozlovski said. However, there are more and more forums where stolen information is being sold. "Something we haven't had before in society is that we could actually go to a marketplace and buy the fruits of a crime," he said.